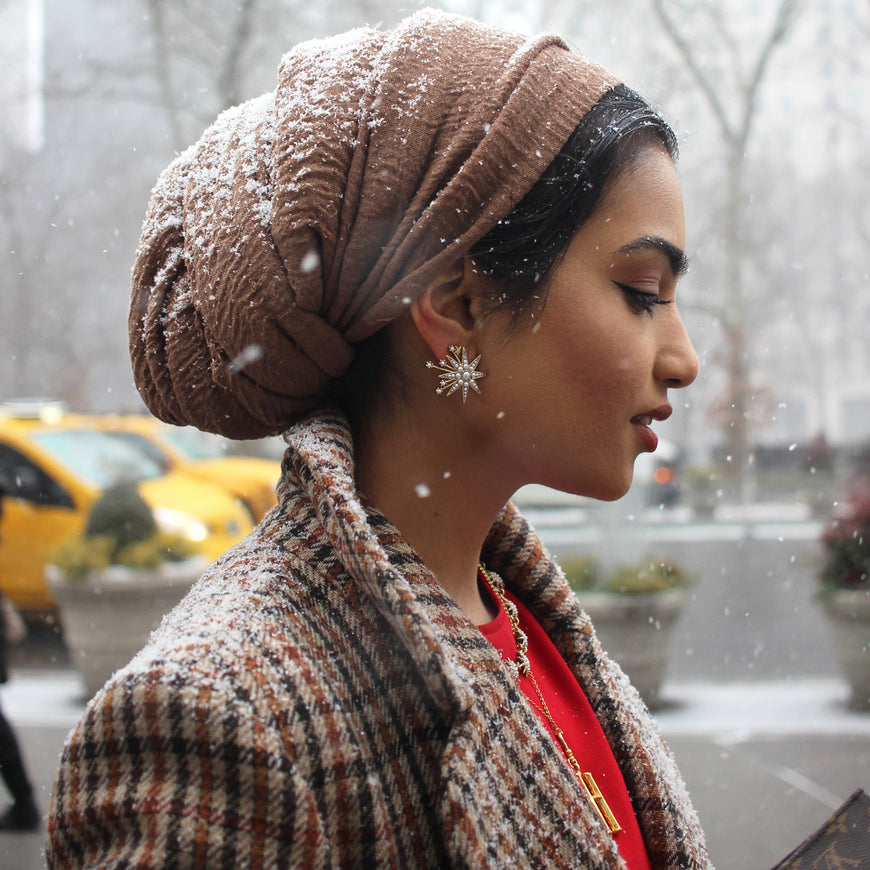 #LULUFROSTWOMEN STYLE: HAJRA TARIQ
On a snowy day in February, Style Influencer Hajra Tariq braved the New York cold with us to share how she wears Lulu Frost jewelry. After dodging snow flakes, we ducked into nearby Variety Roasters where she warmed up with a chai latte and generously answered all of our questions - from how she first fell in love with jewelry to the factors that continue to define her own evolving style.
Q:  What does your normal day to day look like?
A: 
Well, that depends on the day. Mostly I'm running around between shoots and events - carrying a huge tote bag with a change of outfit and my eyes glued to my phone. Being an influencer really means I'm working 24/7.
Q:  How does your history and background affect your personal style?
A: 
I'm South Asian and come from a very rich and colorful background. Although I've been in New York for a long time now, my cultural and religious norms do play a major role in my personal style. I like to incorporate current trends but re-interpret them with my own modest approach. The challenges of making sure I don't show a certain amount of skin, for example, offer me a chance to think outside the box.
Q:  And how has living in New York changed your style?
A: 
This city is really the center of so much fashion buzz and a place where trends are grown. I love that New York offers me the chance to always try a new style.
Q:  Can you describe your personal connection with jewelry? Was it passed down to you via family or did you discover a love for it later in life?
A: I definitely have to say my love for jewelry was passed down via family. When I was growing up I used to love going through my Mom's jewelry box (in fact I still do!). And of course, there's such a big cultural factor in my connection to jewelry. For instance married women in my culture show their wealth and love through the amount of gold jewelry they wear. My connection to jewelry has continued to grow over the years as I've started to understand my own style.
Q:  Tell us about the jewelry pieces that you wear everyday?
A: 

The pieces I wear everyday are a small pair of gold hoops, my Lulu Frost Plaza letter 'H' necklace (who doesn't love showing off a bit of customization?!), my Mother's ring (I love the two-tone details), a Dior ring, my Mother's two gold bangles and sometimes a watch. I know it seems like a lot but these pieces are all super comfortable to wear all day and compliment almost all of my outfits.
Q:  Aside from the styles you wear everyday, what drew you to these new Lulu Frost pieces and how do you plan to wear them?
A: I love that the Power Bracelet is simple yet statement-making and that it matches the gold bangles I always wear. I love the details on the Nova studs with the pearls and interesting shape that really elevates them. And my favorite piece is the Electra Necklace. I'm a huge fan of the mixed metals. If I saw this necklace on someone else I would stop them to ask where it was from! I plan to wear all of these year round and incorporate them into my everyday pieces.
Q:  Fill in the blank - when I wear Lulu Frost I feel…
A: When I wear Lulu Frost I feel that I'm wearing jewelry that defines my style and also reminds me of the beautiful soul behind the creation of these pieces.