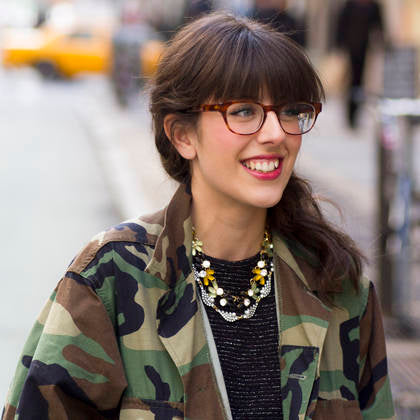 1 GIRL, 1 NECKLACE, 5 DAYS
Known for her eclectic taste and cool vintage finds, Julie acts as both our retail operations coordinator and resident style guru. We put her creative eye to the test with a five-day challenge, giving her one necklace to wear with five different looks from Monday-Friday. The necklace of choice was the Lightray Collar from our Neon Baroque collection, which proved a versatile standout.
See her five outfits below.
Day 1: "I tend to wear this army jacket on a daily basis. The combination of electric blue cords, shimmery knit and casual, classic jacket create the perfect backdrop for the Lightray Collar and pearl-accented Winged Collar."
Day 2: "I'm a sucker for a high-button collared shirt. A short sleeve sweater in a bright hue adds contrast, while still showcasing this candy-colored necklace. Silky track pants keep the look fresh."
Day 3: "I am absolutely obsessed with this 1940s fur-trimmed jacket. I tried to keep it casual by pairing it with a gauzy green blouse, jeans and pink high-tops. The colors in the necklace complement the overall spring tones, even in the dreary rain!"
Day 4: "A full retro circle skirt, especially in black, is the perfect wardrobe staple. I love the mix of a bold floral print and an easy denim jacket. The necklace and blouse echo each other with coordinating pops of marigold."
Day 5: "To celebrate the official start of spring, I chose this fuchsia shift and geometric-print dress coat. By layering the Lightray Collar with our Victorian Charm Necklace, a statement neckline becomes the focus while still being playful and up to date."
*Shop the Lightray Collar here.