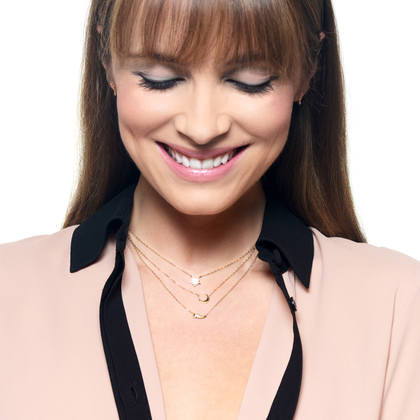 ABOUT THE COLLECTION: CODE SYMBOLS
Now introducing the newest additions to our fine jewelry line, Lulu Frost CODE. 
The original CODE collection shares much of the same meaning and background as our Plaza Collection, and the symbols are an extension of that story. Designer Lisa Salzer created CODE based on her deep appreciation of symbolism found in classic Victorian jewelry motifs.
Comprised of rings, earrings, necklaces and bracelets, the line utilizes yellow gold in both 14 and 18 karat along with precious stones. Stacking and mis-matching rings and single earrings are encouraged, especially in combination with our CODE numbers. Lulu Frost clientele often wear the CODE number series to mark the birth of a child, celebrate an anniversary or commemorate birthdays in a pattern that is distinctly personal. Together the symbols and numbers create a complete story infused with hidden meaning specific to each person. 
Although the newest assortment of CODE represents something different to each person, we've presented our interpretations of the six symbols below, featuring the moon, arrow, wing, star, exclamation and question mark.
The collection is emblematic - it's a code to live by. Shop here.