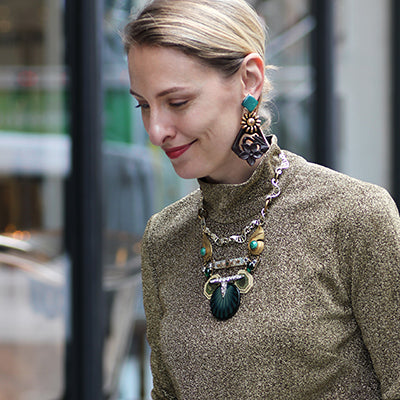 CELEBRATING AMERICAN BUSINESS WOMEN'S DAY
American Business Women's Day, September 22nd, is a day set aside to honor the contributions and accomplishments of the millions of women in the workforce as well as female business owners in the U.S. Here at Lulu Frost, we're proud to be led by founder/designer Lisa Salzer-Wiles and surrounded by a team of many creative, smart and talented women. To celebrate, we asked Lisa plus a few of our other favorite women in business to share their own experiences and their top Lulu Frost "Power Pieces".
"I'm an interior designer based in San Francisco and started my business in 2013. I've been fortunate to work with amazing clients since then, including Lulu Frost for their studio and newly opened Nolita store.
Katie on her Power Pieces,"I wear the Beacon Studs with jeans and a simple t-shirt, they are all you need to make a simple outfit feel cool and edgy, and I feel strong and confident wearing this cuff, it makes a statement."
Katie's design of the original Lulu Frost studio in Flat Iron, New York
The Lulu Frost retail store at 7 Prince Street, New York as designed by Katie
"As a woman in business, I would not be where I am today without the support of my amazing group of talented female friends. They are my clients, collaborators, photographers, journalists, artists, cheerleaders. I am in awe everyday of their talent, smarts and huge successes."
Gillian and Jordana Warmflash
Jordana, "I'm the founder and creative director of Novis, a five-year-old designer womenswear brand based and manufactured in New York City. I oversee design, visual assets, and production – among other things – for Novis."
Gillian, "I'm Jordana's sister and business partner. I oversee Novis's operational, financial, legal and HR matters, as well as marketing. Jordana and I collaborate on larger strategic issues, such as sales, personnel and PR."
NOVIS at NYFW for the SS18 presentation, featuring Lulu Frost jewelry
Jordana "Designing from a woman's perspective, I'm always thinking about ways to flatter the body, I want to make clothes that women want to wear—where they're truly comfortable and can shine." As told to VOGUE.
Explain your journey as a woman in business in one sentence.
JW: "Fun, challenging, rewarding and motivating. It's great to have a female partner (not to mention my sister) on this journey."
GW: "Same as Jordana on all counts. The lows can be frustrating, but the highs are unlike anything else we've experienced in our careers. Having a partner is huge, I don't think either of us could imagine doing this solo."
Gillian: "My birthday is the 14th of October - and 11/14 is also my sister's birthday. It's an important family number!"
And a final note from the Lulu Frost Woman herself, Founder and Designer Lisa Salzer-Wiles.
"Being a woman in business is all about pushing oneself.  In order to continue to succeed, you have to stay dedicated to being a master of your craft.  You'll always be learning, and that's is what it's all about."
"I'd love to see more women-owned businesses, because our deep connection to our gut instincts makes for great decision-making and leadership that is not rooted in the ego, but rather the greater good.  The matriarchy is rising, and with more women leaders the return to a more peaceful world will be accelerated."
Lisa celebrating the official opening of her first Lulu Frost retail store at 7 Prince Street, in New York, was a career milestone
"It's such a changing time where people are so scared of retail but I felt like it was the right moment for us to show our unique vision. I am showing the world how I want to be seen, I'm putting my heart and soul in this space. Whether or not it becomes a massive thing doesn't matter to me. I want a place where my clientele can see the deeper side of Lulu Frost." As told to Architectural Digest and Forbes.com.
"My most important power piece is an 18 karat rose and yellow gold insanely good bracelet that I literally wear every day.  In fact, the chain is so powerful that we've dubbed it the "Power Chain". It definitely helps me take on the world each day."
What are your "Power Pieces"? Share your moments with us #LuluFrostWomen.