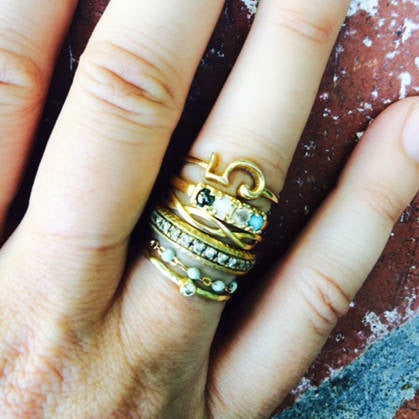 CODE: EMILY HOLT
Lulu Frost CODE, our fine jewelry line, features words, single numerals and symbols in sterling silver, 14K, and 18K gold.  Clientele often wear CODE to mark the birth of a child, celebrate an anniversary or commemorate birthdays.  Our "CODE Stories" series features people who own and wear CODE for meaningful reasons.  See our Q&A with writer Emily Holt, wearing her lucky number #5 alongside her new CODE Words ring.
Intro to yourself?
I'm a writer specializing in fashion, lifestyle and culture.  I just moved back to the Bay Area, where I'm from, after 12 years in NYC.  There, I was the fashion news editor at Vogue and, prior to that, at Women's Wear Daily and W.
How did you first discover Lulu Frost jewelry?
I've loved Lulu Frost for so long, I barely remember my first piece!  I discovered the brand through Lisa herself and have loved watching the collection develop and progress with J. Crew collaborations and new lines like CODE Words.
Significance of your CODE rings?
Well, I'm a little self absorbed so the CODE #5 ring stands for my birthday 5/5 and the acrostic CODE Words ring spells out my last name: Hematite, Opal, Labradorite and Turquoise.
5 things on your summer bucket list?
Learn to drive a stick shift / Read Charlie LeDuff's Detroit: An American Autopsy / Eat my weight in Tartine's country loaf bread / Hike to Stinson Beach / Buy a convertible (why not, it's California!)
5 things you couldn't live without?
My Smythson 2014 calendar—no iCal for me / Nars tinted moisturizer / My Eres Les Essentials bandeau bikini / Warby Parker Everett sunglasses / Credit
Top 5 favorite brands?
Creatures of the Wind / Dries Van Noten / Ancient Greek Sandals / Myriam Schaeffer / Everlane
5 favorite people to follow on social media?
Rickie De Sole (@rickiedesole) for the latest accessories and envious Italian vacations / Kelly Oxford (@kellyoxford) is just damn funny / Bonnie Morrison (@fiercegrandma) for pioneering walk-of-shame street style / Fausto Puglisi (@faustopuglisi) because his captions are filled with excitement, emojis and lots of capital letters / Edie Parker (@edie_parker) because it's mind-boggling how clever their captions are for clutches.