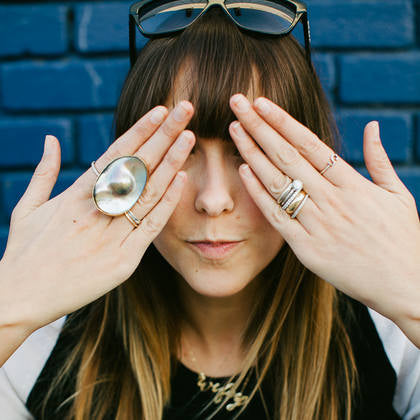 CODE: REBECCA JUNE
Lulu Frost CODE, our fine jewelry line, features sterling silver, 14K, and 18K gold jewelry with single numerals and symbols.  Clientele often wear CODE to mark the birth of a child, celebrate an anniversary or commemorate birthdays.  Our "Lucky Lulu" series features people whose lucky CODE numbers have become a part of everyday life.  See our Q&A with blogger (and recent Lulu customer) Rebecca featuring a series of questions for her lucky number "5."
Tell us a little bit about yourself? How did you first learn about Lulu Frost?
My name is Rebecca and I am a jewelry addict.  I blame my mother, as most do, but really my taste level is all due to her.  I was lucky enough to have a mother who was a connoisseur of both high end and costume jewelry and looked at it not just as something pretty, but as a work of art, so jewelry was always something I thought about, obsessed over, and hunted down.  I am not sure I recall when I discovered Lulu Frost, but the jewelry immediately spoke to me.  It was not just a pretty trinket, but it had a history behind it.  For that reason, Lulu Frost jewelry just feels like it has been around forever, and the quality ensures that it will be.  For all those reasons, Lulu had me at 'hello.'  Now I spend my days documenting my love for all things fashion and design on my blog that I co-write Sea Island Drive.
5 is my lucky number because…
I got the CODE ring for my 5 year anniversary which was this year.
5 words I use the most in my vocabulary are…
Uh-mazing, ridiculous, dude, REALLY and love.
5 favorite places to shop (online and offline)?

Online: eBay / ASOS / Shopbop / The Outnet / Lulu Frost of course!
Offline: J.Crew / Kelly Wearstler / Saks / Forever21 / any and all flea markets
5 essentials you couldn't live without?
My husband, my dog Dorothy Mantooth, my iPhone, jewelry and salsa.
If you only had $5 left in disposable cash what would you spend it on?
Salsa.
5 style icons?
Kate Moss / Olivia Palermo / Rachel Bilson / Kerry Washington / my Mother
5 favorite Lulu Frost pieces?
G&S Mezze Necklace / Eclipse Ring / Victorian Plaza Pendant Necklace #5 / Gold Code Arrow Ring / Gold Code Rings in 1 & 6 for my wedding date
5 favorite fashion blogs?
Damsel in Dior / Atlantic Pacific / Gal Meets Glam / Ring my Bell / Sea of Shoes
5 favorite social media accounts to follow on both Instagram and Twitter?
Instagram: @sketch42blog / @oscarprgirl / @dominomag / @lulu_frost / @gemgossip
Twitter: @honestlyWTF / @ManRepeller / @WillFerrel / @seaislanddrive / @JLJeffLewis
*Do you own Lulu Frost CODE and want to share your story? If so, e-mail lexi@lulufrost.com for details.