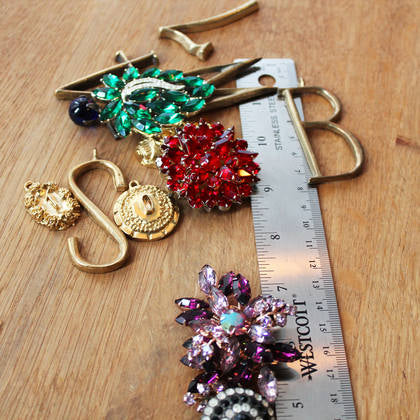 DIY LULU FROST POP-UP AT J.CREW SOHO
Where does modern + vintage come to life? At the Lulu Frost pop-up within J.Crew's New York City SoHo store (Located: 99 Prince St. New York, NY 10012). October 18-20 & 24-27 from 11AM - 8PM shoppers can create their own customized necklace or bracelet with hands-on help from our design team. 
Familiar with our Plaza collection? The pop-up shop will include our classic Plaza charms, available in numbers zero to nine as well as letters A-Z. You can also add our new Victorian Plaza charms to any one-of-a-kind necklace or bracelet.
To begin this do-it-yourself experience, choose from various brass chain options, from a small Oval Round Chain to our classic Snake Chain...
...based on your choice of chain, pick from trays of vintage pieces dating from the 1800's to the 1960's (all sourced from around the world by our loyal vendors). 
The vintage selection will feature Deco dress clips from the '20s, Victorian buttons and a romantic assortment of other treasures. This intimate consulting experience will leave you with jewelry adornments both you, and generations beyond, will cherish.
After choosing your desired chain and special vintage components, the Lulu Frost design team will bring your bracelet or necklace to life. Walk out the door with something completely unique to you (or unique to anyone you may be early holiday shopping for *hint hint) - that's the Lulu Frost way. 
If you won't be in New York City during the pop-up visit our Vintage Section here for one-of-a-kind styles that are very similar to those you will find at the shop.
*New styles added to the Vintage Collection every Wednesday at Noon EST.