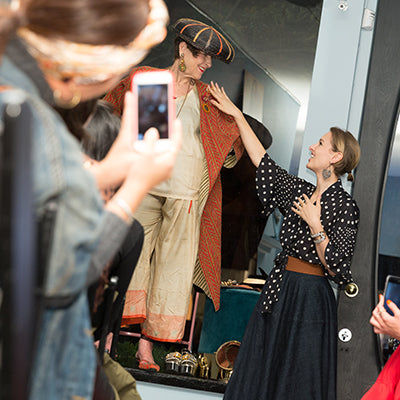 EVENTS: ART OF DRESSING WITH TZIPORAH SALAMON AT 7 PRINCE
Last week, style icon Tziporah Salamon brought her un-matched wit and wisdom to our NYC retail store for a special 2-night showing of 'The Art of Dressing' performance. Joined by an exclusive group of editors and customers - Tzippy showed us how to incorporate Lulu Frost jewelry to create your own signature style.
During 'The Art of Dressing' seminar, Tziporah gave us a peak into her vast collection of clothes. Collected from around the world - be it favorite vintage dealers in New York or travels through Morocco - and preserved from eras throughout the past century, the pieces come to life through her expert eye. Her storied approach to personal style proved to be the perfect match for Lulu Frost's vintage meets modern aesthetic. As a bold finishing touch to each of her ensembles, Tziporah reminded us all that "Jewelry speaks, darling."

See below for more from this special event: 
Shop our Beacon collection here
Shop our Vintage collection here
Shop our Vintage collection here
Be the first to know about all of Lulu Frost's latest events by checking in here.