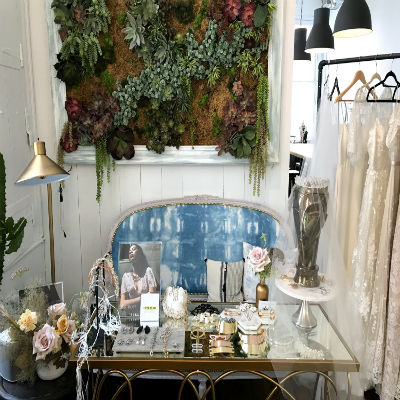 EVENTS: AS ONE WEDS POP UP
We like to celebrate life's special moments, whether it be weddings, birthdays, or other important events so when we met the women behind As One Weds we were excited to collaborate with them. AOW Founders, Amy and Sarah joined us in the Lulu Frost Studio for a 2-day trunk show featuring a curated collection of special Lulu Frost jewelry and unique accessories for the modern-day bride. As One Weds was created for the "anti-bride", the type of woman looking to be original while still honoring the traditionality that makes weddings so monumental.
Scroll down to read more about this new online store and see photos from the trunk show. Thank you to some of our favorite New York bridal designers Houghton, Rebecca Schoneveld andCatherine Deane for lending us some of their divine gowns for the event.
Getting to know As One Weds Founders Amy and Sarah
What are your favorite pieces? What special meaning do they have for you?
Our favorite pieces from our current collection are the Beacon Studs that come in both Antique Silver and Black. They are incredibly edgy, statement earrings that feature a cool, modern silhouette with Art Deco influences. In many ways, they're representative of our brand's ambition -- finding unique yet wearable bridal accessories that were not as evident in the bridal market before. We love that it comes in black for those who dare to be different and adventurous with their bridal style. They also easily transition from the wedding day to life after, so brides can keep wearing and loving them for years after the big day.
We think progression in every sense is a beautiful thing and believed the bridal industry, too, was ready for a bit of a makeover. We wanted to push the boundaries of traditional bridal and offer something fresh for those who were tired of the same old ruffles and bows and craved originality. We are here to cater to those who are ready to create their own rules of what's "in" and are not restricted by trends or norms, as that is very much our philosophy at As One Weds.
What are your favorite bridal gown designers?
Our current favorites in the industry are Houghton, Odylyne The Ceremony, and One Day Bridal. All three designers bring to bridalwear what we aim to bring to bridal accessories -- eclectic styles and designs beyond what is typical or familiar. Each designer always seems to bring something new and exciting to the table with every collection, so we love looking to them for inspiration.