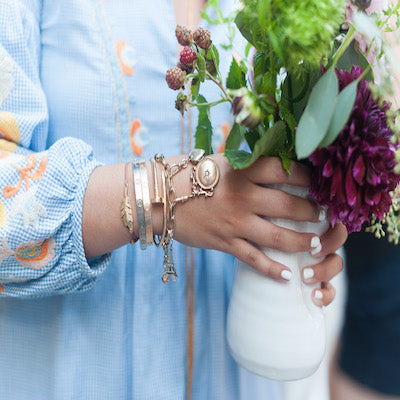 EVENTS: INTRODUCING LULU FROST AT 7 PRINCE
It's all about meaningful moments. Last week we officially opened the doors to our first retail concept store, located at 7 Prince Street in the heart of New York City's Nolita neighbourhood. With a minimal aesthetic the store was designed by the acclaimed San Francisco interior designer (and one of Lisa's best friends), Katie Martinez. Painted in a perfectly calming tone of "Santorini Blue" it features brass custom jewelry cases to display a selection of our very best vintage plus fine jewelry from our coveted CODE and ZODIACS collections.
After 14 years of designing Lulu Frost collections and sourcing vintage charms, Lisa's love of meaningful jewelry has manifested into a DIY charm bar where you can create your own customized necklace or bracelet with pieces from the Victorian era through to the 1980's along with our beloved PLAZA numbers and letters. Lisa is also thrilled to welcome a new concept to the store in collaboration with the talented florist Tess Casey, a "Language of Flowers" bar where you can create a customized floral bouquet. Build your bouquet based on a century-old Victorian code, where each bloom holds a hidden message. Each arrangement comes with a decoder booklet, explaining that peonies for instance mean "I'm charmed by you," while striped carnations suggest that he's "just not that into you".
"It's the idea of hidden themes," Lisa told her guests at a preview event. "Around the world I've heard the most intimate stories from people about why they like certain numbers or code words. And I became obsessed with the idea of the Victorian language of flowers. … What unites the floral concept and the jewelry is this hidden meaning that really connects to the individual."