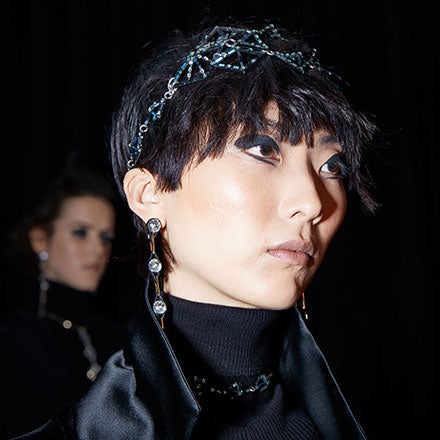 EVENTS: LULU FROST + GEORGE FROST FW16 NYFW PRESENTATION
This New York Fashion week we celebrated the latest FW16 collections from Lulu Frost (titled "Frequency") and George Frost (titled "The Machine Age"). Hosted in Manhattan's Chelsea district in the beautiful Highline Loft, the morning event attracted a fashionable crowd of bloggers, editors and industry insiders.
Launching in August 2016, the collections feature slick designs inspired by exploration and industrial innovations. In particular Lulu Frost "Frequency" draws inspiration from the vastness of outer-space and the expansive power of human thought while George Frost "The Machine Age" references the automotive and aeronautical progress of the 1930s and 40s.
The presentation itself featured seven Lulu Frost-clad females arranged in the formation of Pleiades, the constellation of the Seven Sisters. The George Frost presentation featured seven dancers (one male, one female) handcuffed to briefcases full of the new collection. The dancers performed a dramatic looping sequence choreographed by designer Marlon Taylor-Wiles.
*See below for the photos from the presentation (plus behind-the-scenes snaps).
Styling: Paul-Simon Djite | Choreography: Flying Under the Radar | Photography: Guillaume Roemaet  | Hair: Richard Kavanagh for Cutler/Redken | Makeup: Cassandra Garcia for Bobbi Brown Cosmetics | Nails: Gina Edwards for KISS Products, INC.