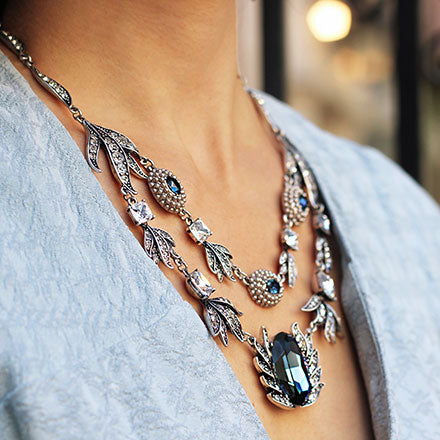 FALL/WINTER MUSE: SLOANE CROSLEY
This October, author Sloane Crosley debuts her novel The Clasp. A story about the quest for a famous necklace, The Clasp inspired designer Lisa Salzer in her creation of the exclusive Kezia Necklace. Named after one of the main characters, the Kezia Necklace is based on a 19th century drawing that inspired Sloane throughout her writing process. In celebration of the book launch (available here beginning October 6th), we're happy to have Sloane as our Fall/Winter Influencer.
How did you first meet Lisa?
Lisa and I met about eight years ago at a mutual friend's birthday party in Bellport, Long Island. A bunch of us packed into a rental house for the weekend and Lisa and I had adjoining air mattresses. Actually, thinking of that weekend makes me think we were somewhat destined to do this collaboration. Lisa had an early prototype for a necklace she was working on and it went missing. I was upstairs, changing in one of the bedrooms, and I found it.
Tell us about the inspiration for The Clasp?
The novel tells the story of three college friends who are, on the one hand, like family and, on the other, on the precipice of never speaking again (which I suppose is the same thing, depending on your family). I wanted to capture that time period and those personalities while also paying tribute to one of my favorite art forms — the short story. I was home one night, pacing around my apartment, and I reread Guy de Maupassant's famous short story, "The Necklace." I was struck by how clean and beautiful it was, how deceptively simple and how the themes not only held up but applied to every one of my characters.
What are three reasons everyone should read The Clasp?
1. It's funny — I hope it's funny.
2. If you like literary books that are also suspenseful books that also remind you of a cross between
The Emperor's Children
,
The Goonies
and a flaky croissant, you might like this.
3. It's just under 400 pages. So it's portable but you wouldn't want to drop it on your foot. I think that's a good barometer for literature.
What did you learn about yourself in the process of writing this book?
The book took five years from start to finish so even if I weren't writing a novel, even if I was just staring at the walls for five years, I would learn something about myself. But what pops out is patience. I learned how to hold onto a story without choking it to death or knowing the end, to trust myself to go in the right direction, to write from the perspective of two men and one woman, all of whom live in worlds so different from mine. One works in tech, one works in Hollywood and one, of course, works for an independent jewelry designer.
How did the Lulu Frost collaboration come to be? 
The story of "The Necklace" is the story of a valuable necklace that turns out to be a fake. The story of
The Clasp
is the story of two necklaces, one fake and one real but missing. Or so we think. The question of realness is threaded (pun, sorry) throughout the novel, both when it comes to people and to jewelry. Lisa works with such beautiful materials and I asked her if she'd be interested in creating a fake necklace that looked real based on a real novel about a fake necklace based on a real story about a fake necklace that everyone thinks is real. Simple. I also showed her a sketch that I found from the late 19th century. I had it pinned above my desk while I was writing
The Clasp
and so the same actual necklace that I described in the book also inspired our design for the Lulu necklace.
What is it that you love about jewelry?
Giddy up because this is about to get gross as I quote from own book. There's a scene during which one of the characters explains to the other that "jewelry is as alive as whomever it touches." I believe that. Where it's scratched and dented or polished, the photographs it does or does not appear in, the time periods or specific moments when it was worn, when you lost it, when you found it again. It's art and it's craftsmanship but jewelry is also a keeper of memory.
Fill in the blank: Jewelry has the power to _________.
Define.
Where do you plan on wearing the collaboration necklace this season and what will you style it with? 
I made a book trailer for
The Clasp
with Amanda Seyfried and I stared at various versions of that trailer for so long, that my first instinct is to wear it with a button-down and a cardigan. I also love the idea of pairing it with anything solid — a black or neon dress. It really is perfect for a holiday party. Though looking at what I already own? I will wear it with Courtshop jeans, a T-shirt, Rachel Comey boots and a black tuxedo jacket. I like the idea of arriving at an event wearing the drab sleeping bag I call a coat, knowing that this necklace is underneath.
What are three other Lulu Frost pieces you especially love right now?
If you could spell out one word with our Custom CODE Words collection what would it be?
Pneumonoultramicroscopicsilicovolcanoconiosis. It's the longest word in the English language. It's meaning isn't so hot (black lung disease) but my goal is more stones here.
What's your lucky number and why?
I don't have one but if I had to pick, probably 7. Back when people were listening to full albums, track 7 was always reliably good for some reason.
"The genius in the room is the one most like himself." —Thelonious Monk
If you could sit down and have a drink with one icon form the past who would it be, where in NYC would you take him or her and what would you ask him or her?
The answer to this question changes but right now it's pretty clearly Guy de Maupassant. I would take him out in Manhattan. Maybe dinner at Raoul's (he'd like the food) and then to The Bowery Hotel (he'd like the décor and the history) and then to Happy Ending (he'd like the ladies). Though I wouldn't ever be alone with him. Too handsy. But I'd ask him to describe for me, in detail, what it was like to lose his mind.
Where to do you keep your jewelry? 
This sounds like something out of a Portlandia sketch, but I keep it in an antique Dutch spice cabinet I bought at a flea market. It's got china drawers that say things like "koffie" and "rijst." The salt drawers are filled with rings, the tea drawer with bracelets. To keep the chains from tangling, I hang necklaces in the cabinet meant for eggs.
If you could have one super power, what would it be?
Fly. Or electively give animals the power of human speech.
What's your biggest guilty pleasure?
Getting my news from Twitter.
Best piece of advice you've ever received as a writer?
Finish things.