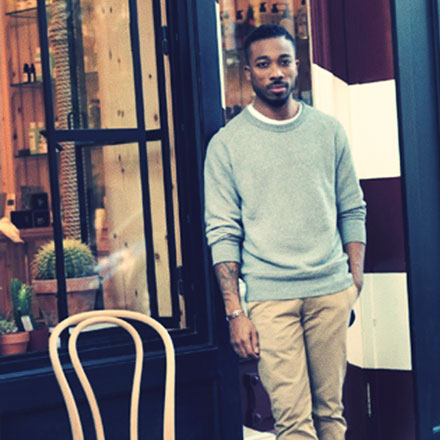 FATHER'S DAY STORIES
In preparation for Father's Day we called on two of our favorite dads, Nathan Kraxberger and Josh Livingston, to get their perspectives on fatherhood, family and men's style. Nate is a friend of our Director, Sandra, while Josh is a friend of George Frost's Creative Director, Marlon. Familiar with our men's accessories, the guys filled us in on their favorite Father's Day picks and what they love about being a dad. 
*Read below for more.
Tell us a little bit about yourself. 
Nathan:
My name is Nathan Kraxberger and I live in Brooklyn, NY. I'm a pro photographer, father of two kids (Alexa, 5 Hayden 4), an avid cyclist and a husband to my amazing wife Marissa. I have a photo studio in SoHo and shoot for some great fashion brands. I love living in NYC and love what I do! 
Josh:
I am originally from Missouri, but I've lived in New York City for seven years now. I live with my wife Natalie and our daughter Jude Annabelle in Clinton Hill. I'm a very proud, brand new dad! As for work, I'm a barber at Freeman's Sporting Club in the Lower East Side and am pursuing a PhD at the Silberman School of Social Work at Hunter College. 
How will you be spending Father's Day? 
Nathan:
Marissa and I will be spending this Father's Day on a plane headed to wine country in Napa for a family vacation! 
Josh:
My wife tells me she has something planned for us on that day – I hope it involves seafood at some point! But actually, just relaxing with my wife and daughter would be perfect. 
What is your favorite thing about being a dad? 
Nathan:
My favorite thing about being a dad is having two kids who really depend on me. They lean on me for everything, and at times that can be difficult, but the payoff is huge when they shower me with their love. 
Josh:
As a new dad, I don't have a well of experiences to choose from. But from what I have experienced so far, I'd say seeing my daughter change everyday has been my favorite thing. It's amazing watching someone transform so quickly and frequently.
What's one rule to live by when it comes to styling men's accessories? 
Nathan:
I would say there are no rules. Again, the rule is to be you. 
Josh:
Not too much! A nice gift, keepsake, or piece that was handed down to me is the starting point. 
What is your favorite place to spend time with family in NYC and why? 
Nathan:
I love hanging out in Dumbo, Brooklyn with my family. We hit the playground, then it's time for Shake Shack, and we finish it off at the Brooklyn Ice Cream Factory. The view from Brooklyn Bridge Park is tops. Dumbo offers so much for families, with a little less hustle and bustle of NYC. 
Josh:
Of all the places in the city, I'd have to say my favorite is right here in our neighborhood in Brooklyn. When I'm here, I feel so at home and at peace. I'm looking forward to Jude growing up here surrounded by the people we've met that we truly consider family.