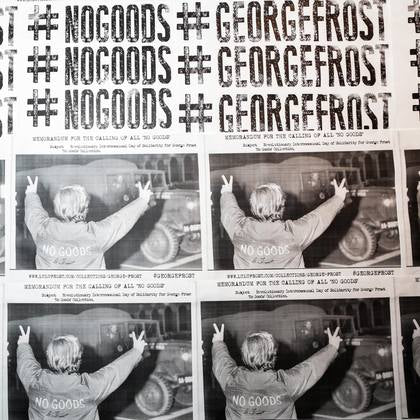 GEORGE FROST - NO GOODS
Last night we had an event to celebrate the George Frost NO GOODS collection. The collection, which launches soon, draws inspiration from 1960's revolutionary sentiments played out on a global scale, from anti-Vietnam war protests to civil and women's rights movements. The line speaks for unity, loyalty and peace for now and the future. To bring the collection's inspiration to life we rented out the Red Door in NYC's Chelsea neighborhood and transformed the space to look like a top secret meeting place.
The venue walls were plastered with #GeorgeFrost (click to see tagged Instagram photos) alongside newspaper tears from the '60s and '70s. Bloggers, buyers, and friends of the brand browsed the collection over Brooklyn Lager and Bushmills Whiskey. There was a two hour long reel of footage projected on the back wall featuring protests, music festivals and concerts from back in the day. This was especially cool when Seasick Mama performed live and danced across the stage in sync with old rock band footage.
Since not everyone could attend the event, we wanted to share some of our favorite moments with you. Take a look into George Frost NO GOODS with the slideshow above.