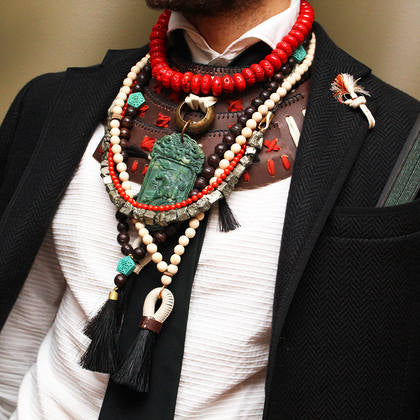 GEORGE FROST X MICHAEL BASTIAN
When a successful collaboration unfolds it is more than exciting, especially when it involves hours of hand-wrapping and braiding various materials into intricate designs and patterns. This New York Fashion week our unisex line, George Frost, collaborated with American menswear designer Michael Bastian to create the accessories for his Fall/Winter '14 collection. Taking cues from the overarching inspiration of Japanese culture in Michael's presentation, the George Frost x Michael Bastian collection combines unexpected elements like horsehair and antique Japanese coins to channel the strength and dignity of the Japanese culture. We went backstage at Michael's show to watch the collection come together. See photos below for highlights from the event. *Runway photo credit Dan Lecca
The look above channels the strength of samurai armour and the elaborate iron breast plates typical of that part of Japanese culture. The longer necklaces with horsehair tassels are inspired by Buddhist prayer beads. The detailed stitching and intricate craftsmanship required within the leather paneling took about a day and a half to complete.
The Michael Bastian team gave us a number of carved jade pieces to use at our discretion, whether within the pieces themselves or simply as inspiration. After creating the massive multi-layered leather piece previously mentioned, we decided to create a much more scaled down version that still incorporated strong Japanese influence (see above). This necklace in particular was made from leather wrapped in fabric with real horsehair tassels.
This necklace was a result of our initial collaborative explorations. The carved centerpiece was one of the components provided by the Michael Bastian team and the necklace came from experimenting with horsehair techniques we used in our previous George Frost NO GOODS collection. This is one that easily translates from runway to everyday wear.
*Most of the pieces above are unique to the Michael Bastian presentation, but a portion of the George Frost x Michael Bastian collection will be available for pre-order late February