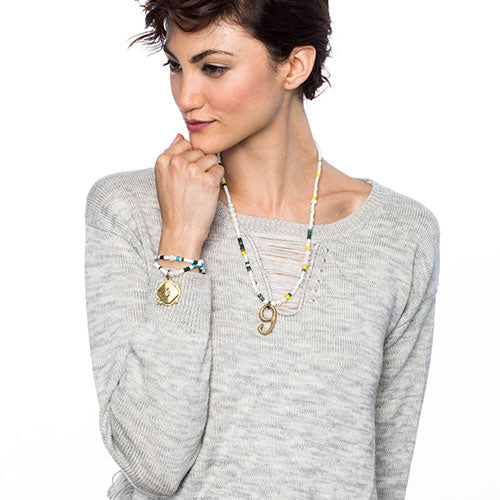 HONESTLYWTF X LULU FROST TRAVELER SERIES
It's been a while since we've collaborated with HonestlyWTF, but a recent studio visit from the blog's founders, Lauren Kolodny and Erica Coffman left us eager to create something fresh and new – jewelry styles that easily transition from summer to fall. After a long afternoon catching up with the girls in our NYC-based studio we came up with the Lulu Frost x HonestlyWTF Custom Traveler Bracelet & Custom Traveler Necklace, both inspired by designer Lisa Salzer's recent travels. The pearls are an ode to Lisa's recent work trip to Japan, the turquoise brings back memories of Lisa's bachelorette party in Santa Fe and the yellow and green African glass trade beads remind her of her trip to Tanzania to climb Mount Kilimanjaro. 
We caught up with Erica and Lauren to get their take on our collaboration and learn more about their own travel inspirations. Read below for more!
If you could describe the Custom Traveler Necklace & Bracelet Series in three words what would they be? 
Personal, worldly, and spirited. 
How would you style this series for the following:
A night out with friends?
A denim shirt with the Custom Traveler Necklace styled alongside four to five other necklaces of varying lengths. 
A casual Sunday?
A simple white t-shirt with the Custom Traveler Necklace on it's own. 
A hot Summer day?
The Custom Traveler Necklace with an off the shoulder top, layered with another longer necklace. 
A chilly Fall evening?
The Custom Traveler Bracelet stacked with gold cuffs. 
You've collaborated with various designers in the history of HWTF… What is your favorite thing about the design process?
Brainstorming together in the very beginning is my favorite part. Throwing around ideas during that initial phase is always a great time to get to know the designer better - plus, the mutual enthusiasm is contagious!
What makes these two collaboration pieces so special? 
For me, travel is everything. I believe it's the one thing you can buy that makes you richer. So I love that the pieces were inspired by exploration. 
Top three favorite places you've traveled and why?
Istanbul, Turkey

:

Istanbul is undeniably magical. The colors and noises of the bazaars, the beauty of the architecture, the vast influences of the food, the richness of its history...it all just charmed the socks right off of me and I can't wait to return. 
Siam Reap, Cambodia

:

Waking up at 5am to watch the sun rise over the magnificent 9th century temples of Angkor Wat makes Siam Reap absolutely sublime. Everyone should experience it once in his or her lifetime. 
San Miguel de Allende, Mexico

:

San Miguel de Allende will always be a special place to me as it is where my husband and I were married five years ago. The beautifully quaint colonial town is nestled in the Bajio mountains of central Mexico and is known for its narrow cobblestone streets, buildings painted every color of a desert sunset, and carved doors that open into grand courtyards. Oh, and tacos and tequila?! Yes, please.
If you could travel to one place you've never been where would it be and why? 
The spirituality, abundance of color, and textile inspiration is why India is at the top of my travel wish list. 
What's in your travel bag? 
My camera, multiple chargers and charge packs, sunscreen, a straw hat, sandals and at least three bathing suits. 
Fill in the blank: Jewelry has the power to______ 
Outside of these two collaboration pieces, what are your top three favorite pieces on lulufrost.com now?
Tell us what the best part of your summer has been so far and one thing you're excited about with the coming of fall? 
My son turned 2 this spring and he's now at the age where he really understands and remembers experiences. It's been so fun traveling with him this summer - even if it means just taking long weekends to relax and teach him how to swim in the pool. Summer is the best, but fall comes in at close second. I absolutely live for the holidays so when the days start getting shorter and the weather cooler, I know Halloween (my favorite) is just around the corner!