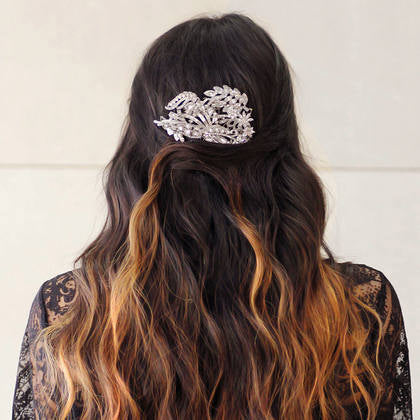 HOW-TO: WEAR A HAIR COMB
Looking for holiday hair ideas? We brought in the industry pros to uncover some stunning looks for the season. Bobbi Brown make-up artist Cassandra Garcia, Bumble & Bumble hair stylist Allen Wood, and blogger Serena Goh of The Spicy Stiletto joined us for an afternoon in NYC's meatpacking district to play make-up and hair dress-up with our new assortment of vintage hair combs. From an elegant up-do to beachy waves, Allen showed us just how easy it is to go glamorous. 
Read Allen's styling tips below.
"To start, I created cool, undone downtown waves - effortless and not too 'styled'. I applied Thickening Hairspray to damp, towel-dried hair and dried hair completely using a blowdryer and hands. Next, use a 1 1/4" curling iron and wrap manageable sized sections of hair around the barrel of the iron for about 5 seconds (not too long - we are creating more of a wave and less of a curl here). Release hair and use your hands to stretch each panel out to relax it so it is a soft, stretched out wave and less of a springy, bouncy curl. Vigorously shake out waves and burst Dryspun Finishthroughout for added volume and roughed up texture."
"This is a fresh, modern take on the 'half-up/half-down' look. Start by bursting Dryspun Finish throughout hair to maintain the beachy texture we created previously. Using a comb, at the crown of the head, backcomb the hair at the roots to create a bit of soft, Bardot-inspired volume. On either side, gather vertical panels of hair about 1 1/2" back from the hairline (leaving soft pieces out around the face keeps this look feeling current). Crisscross these to panels at the back of the head and secure with Bobbi pins that match your hair color. Tuck as many jeweled hair combs as you desire into the pinned area."
"For this look we layered in multiple hair combs to create a statement look. After we were finished pulling it all together, the four or five combs we used looked like one massive, but amazing comb! This is a fun approach to adorning the hair."
"This braided crown updo is inspired by the recent runway trend and street style craze for the look. This style can be dressed up or down and translates from day to night. To create this texture, spritz Surf Spray throughout hair and rough dry in with blowdryer. It may look complicated but it is essentially 2 french braids. Start by gathering a round section at the crown of the head that is about 6" across and clip out of the way. Begin your first french braid off of a side part and make your way around the entire circumference of the head. Once you've made your way around the head and get back to the original starting point, finish off the braid and secure with an elastic. For the second braid, take the crown section that had previously been clipped out of the way and french braid it horizontally. Secure with elastic."
"Before pinning, take a minute to pull the two braided 'pigtails' apart for a little undone, ethereal texture. Wrap the 2 braids around the general crown area of the head and secure with bobby pins that match your hair color - creat a flattering 'crown' shape with the braids. Finish by adorning with as many jeweled hair combs as you like. We used one to start and then added more hair combs around the braid to resemble more of a crown."