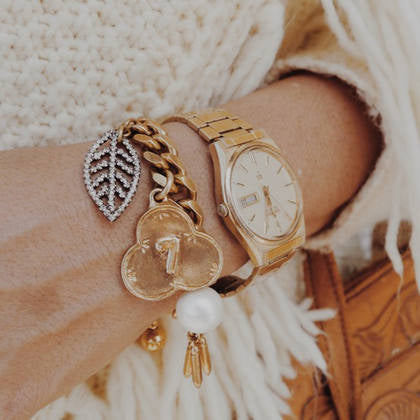 IN THE MAKING: LULU FROST X HONESTLY WTF CHARM BRACELET
We're excited to introduce an exciting design collaboration with the lovely ladies behind the lifestyle and fashion website, Honestly WTF. Lulu Frost designer, Lisa Salzer, joined forces with Honestly WTF founders, Erica and Lauren, in creating a special piece featuring vintage inspired charms influenced by Victorian symbolism. Each bronze cast number reinterprets the original font from New York City's iconic Plaza Hotel. The bracelet taps into both people's love for owning a piece of New York City history as well as the personal significance of "their" number, whether birthday, anniversary or another symbolic numeral. Learn more about the collection below. 
Lisa speaks to the inspiration for the new Plaza charms:
"For the Victorian Plaza Collection I took some of my favorite Victorian vintage lockets, pendants and charms from my archive and used them as inspiration to create ten unique silhouettes to be adorned by each of the numerals [numbers 0 through 9] . Each charm is hand carved in wax and cast in brass in our NYC studio. The unique characteristics of each charm represent the individudal reasons why people love certain numbers. We wanted to incorporate these new charms into our collaboration with Honestly WTF so we added other special elements like freshwater pearls and a beautiful crystal leaf to our classic Victorian Plaza Bracelets. The Lulu Frost X Honestly WTF Charm Bracelet is a limited collection piece that allows everyone to have their own meaningful jewelry statement. Erica and Lauren have been such a huge support for Lulu Frost we couldn't wait to create something so significant and memorable with them."
Honestly WTF founder Lauren, talks about the meaning behind her special number:
"I know it's a bit cliche to have 7 as my lucky number, but I was born on the 7th in 1977. That's a lot of 7's so I have always just gone with it. I was so excited when this collaboration came about - my grandmother had a charm bracelet with her children's birthdays on it, so it was a no brainer I went with 7."
Honestly WTF founder Erica shares the meaning behind her lucky number 5:
"On May 26th of this year my husband and I welcomed our beautiful baby boy Quincy and needless to say, our lives haven't been the same since. I so proudly wear the Lulu Frost Code rings in numbers 2 & 6 and the Plaza Charm Bracelet with the number 5 to commemorate that most momentous day!"