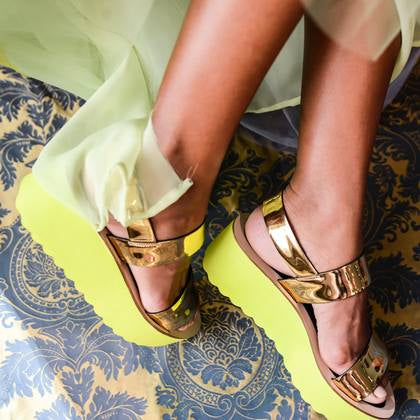 IN THE MAKING: NEON BAROQUE NYFW PRESENTATION SHOES
We're all about finishing touches at Lulu Frost. That's why our Spring/Summer 2014 Neon Baroque Presentation featured small neon matchboxes endorsed with Marie Antoinette's famous quote, "Dreams weigh nothing." It's also why bouquets of flowers filled the room from the bar all the way to the stage.
Attention to detail is why designer Lisa Salzer decided that seven pairs of stellar Zara wedges were not quite enough for our Marie Antoinette-like models. Instead, she decided to paint them, because what is Neon Baroque without neon platforms? In our NYC-based studio Lisa took to the paint brush. Using shades of orange, purple, yellow, and green we transformed already cool Zara shoes into decadent prized possessions.
Step into our design room, and follow the photos below for the entire process.