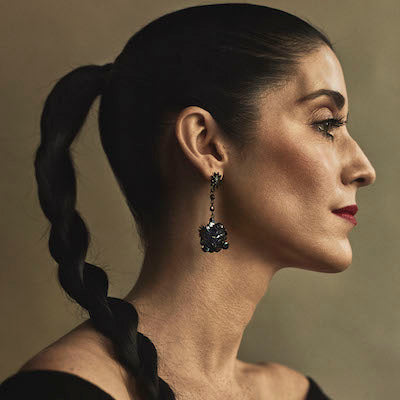 INTRODUCING LULU FROST WOMEN
With the launch of our much anticipated FW17 CIRCA campaign comes the opening of our portrait series featuring an inspiring selection of Lulu Frost Women. Sarah Sophie, Trae, Katherine and Claire display the courage, strength and hope that is true to Lulu Frost Founder and Designer Lisa Salzer-Wiles' own heart and speak to her continued passion to create jewelry with meaning.
Join us as we get to know the women of Lulu Frost, beginning with our leading CIRCA ladies.
Activist | Human Rights Advocate | Feminist | Mother | Mentor
Not only is Sarah Sophie a beautiful soul inside and out, she is a true warrior for the causes that matter, like fighting for equal rights and women's rights through her work with Women's March.
Sarah is a tireless champion for change, working every day to lead us into a better future where all people have opportunity, not just in theory but in reality. Her strength and perseverance embody our new FW17 collection Circa, perfectly inspired by Lisa's love of strong women who go against the grain in pursuit of what they believe in.
Tell us about a particular moment where you felt strong and powerful?  
There's a lot of moments I felt strong. I have three kids. Childbirth makes me feel strong because that is a superpower, whether we choose to use it or not, it's up to us, but giving birth is certainly a strength. The day of the Women's March I felt strong. Being part of the resistance I feel strong. I feel strong a lot!
Describe your favorite piece from the Circa collection?  
I love all the mourning jewels, like the inspired Victorian mourning jewelry. I've always been a big fan, Lisa and I have that in common. I do feel like collectively we're in a moment of mourning but also resurrection, so I feel like both the mourning jewelry is appropriate for this moment, and the crystal is sort of forward-facing hope-for-the-future, which I have a lot of.
What is a Lulu Frost woman to you?
I am a Lulu Frost woman. I love the nod to history, sort-of groundedness in the present, and then again the hopefulness of the future. I think generally we have to look to the past to understand where we came from, and what we can improve on and be grounded in the present. And of course we have to use everything that we've learned to make a better future. So that's what all of this sums up for me.
Next week, get to know the fun-loving and energetic force that is Claire.