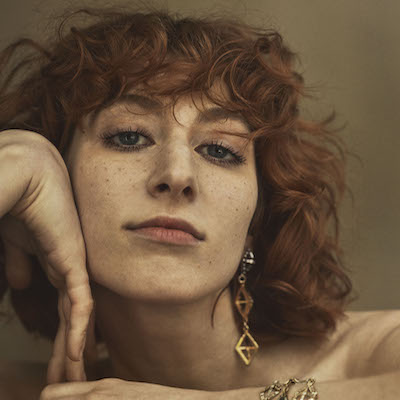 INTRODUCING LULU FROST WOMEN
With the launch of our much anticipated FW17 CIRCA campaign comes the opening of our portrait series featuring an inspiring selection of Lulu Frost Women. Sarah Sophie, Trae, Katherine and Claire display the courage, strength and hope that is true to Lulu Frost Founder and Designer Lisa Salzer-Wiles' own heart and speak to her continued passion to create jewelry with meaning.
Join us as we get to know the women of Lulu Frost, beginning with our leading CIRCA ladies.
Photographer | New Yorker | Taurus | Creative
Meet the amazing Claire Geist, a gorgeous, whip-smart and kind young woman who was first introduced to Lulu Frost as an intern 4 years ago. Claire is the perfect embodiment of feminine strength and creativity and has crafted a beautiful blog of her own that shows a refreshingly real perspective on what it means to be a modern woman through self portraiture.
Her lifelong love of photography combined with her inquisitive nature made way for a new interest; technology. With a career as a Data Strategist, in visual recognition technology, Claire is actively part of the movement that is paving the way for "women in tech".
Tell us about a particular moment where you felt strong and powerful?  
Ah man...Sometimes I feel like just existing in a good outfit, walking down the street in the city is, like, by far one of the most powerful things that I could have in my arsenal. I feel powerful when I feel good, and I feel like myself. Anytime where I feel like I have to shrink something of myself away I feel a little lost, so power comes from just being able to be myself.
Describe your favorite piece from the Circa collection?  
My favorite piece is the pearl and crystal collar with the velvet back. It's like a rose-covered gate that someone is trying to climb. And then I love the incorporation of the twenties-inspired velvet wrap in the back with the tie. That's a total throwback that I think is super fresh and wonderful. Velvet is so beautiful; having something like that around your neck is already glamourous.
What is a Lulu Frost woman to you?  
Lulu Frost women always has a sense that history is always swirling around them and that we are living testaments of where we came from and what we're making for ourselves in the future. I think being able to look back in the past and learn from it is something that is constantly on Lulu Frost women's minds. It's always taking from the good parts of the past.