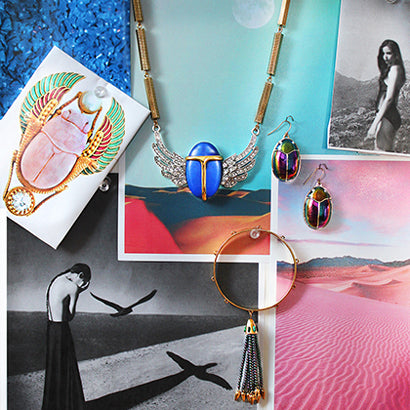 LULU FROST X SOLDSIE FOR NYFW
Designer Lisa Salzer and the rest of the Lulu Frost team proudly debuted our Flora Fauna collection last night during New York Fashion Week. Presented at Lightbox Studios, guests sipped on Veuve Cliquot while enjoying a truly museum-grade experience. Inspired by the naturalism of a vast desert landscape, the collection highlights plant-life and creatures of the wilderness, such as pearl-laden snakes and crystal-encrusted birds. To emphasize the stark beauty of the collection, pieces were showcased in lit plinths, showered with graphic projections of desert scenery.

The night was a great success but we were missing something that would have made the event even more special. As huge advocates of social media, our Instagram account follows us wherever we go but many of our Instagram fans were not able to join us for the presentation – the missing puzzle piece to an otherwise fantastic evening.

In order to bring NYFW to you, we've decided to create an exclusive social shopping experience. We've partnered with Soldsie, a technology that enables online retailers to sell product through Instagram via users' comments. By writing "sold + the user's email address" commenters are immediately sent an invoice for the item in that photo, pending availability.

Beginning today, September 4, 2014, we will offer a limited quantity of three styles shown at the Flora Fauna presentation – a bracelet, necklace and earring style ranging from $188-$350. These core styles speak to the essence of the collection, featuring scarab beetles that symbolize eternal life, and a tassel bracelet meant to fend off evil. See photos below for the three styles, and follow us on Instagram today for purchase details. Thanks again for your continued support of the #WorldofFrost!