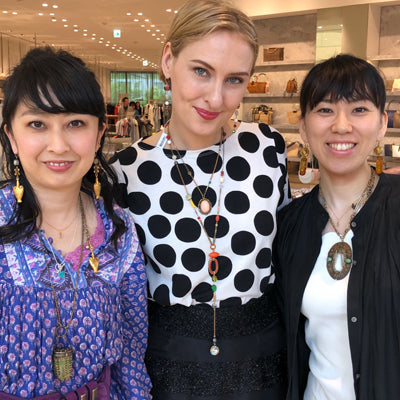 LULU ON THE ROAD: TOKYO EDITION
Earlier this month, Lulu Frost hit the road for a series of trunk shows in Tokyo. Now on her 15th visit to Japan, designer Lisa Salzer-Wiles shares what she's come to love so much about this special place as well as the new discoveries she made on this trip.
What makes hosting trunk shows at Barneys Japan so special?
Hosting trunk shows at Barneys is definitely one of the most special events of the year.  I am honored to work with such an iconic department store as Barneys, and seeing the same wonderful clients come back year after year is truly a joy.  I've gotten to know many of the clientele and love seeing their Lulu Frost collections grow over time.  One of my favorite parts of the trip is feeling like a part of the Barneys team, even if only for four days.  I work together with the dedicated staff and amazing buyers there, and feel so happy to be a part of a fabulous Japanese business for those few days.
What differences (or similarities) do you notice between personal style in Tokyo vs. NYC?
There are many differences as well as similarities between personal style in Tokyo and NYC.  I do notice, over the years, that a certain sector of Tokyo gals adopt a quite clearly definable "trend" look each season, more so than in NYC.  Currently, the Tokyo 'look' is so awesome that I bought it for myself.  The look is casual and cool, with a combination of wide leg chino pants or jeans topped with an easy button-down short-sleeved floral-printed "aloha" T.  It's a great 1950's workwear look with a nice feminine touch.  On the other hand, there is always a tremendous amount of individuality in Tokyo style - you can see a huge range of looks, from goths and punks to scientist-inspired looks to your classic Commes des Garcons ladies.  I love the diversity and individual expression of bold style apparent every day on the Tokyo streets.
Where do you always return to shop and what's on your must-buy list?
I always check out Neighborhood, a streetwear shop with several locations.  I always take a walk from my Shibuya hotel to Harajuku, where one of the Neighborhood stores is, and buy their amazing incense.  This time I bought a bunch of packs to give to friends as gifts - their scent is heavenly and totally unique.  I also love shopping at Resitr - it's been a great womenswear store for over ten years and they have very chic clothing at reasonable prices.  
Favorite Meal in Tokyo? Any secret spots to share?
I really loved a delicious meal I shared with one of my dearest friends, Saori - she took me to Akomeya, a must-visit site for Tokyo trips.  The store is a slice of epicurean heaven, stocking goods made entirely in Japan ranging from delicious spices, dressings, and teas to gorgeous earthenware pots, tiny porcelain bowls and a myriad of kitchen equipment.  The majority of my suitcase was filled with goodies from Akomeya upon leaving Japan.  To top it all off, Saori and I enjoyed dinner in Akomeya's lovely low-key fancy restaurant tucked behind simple canvas curtains.  Our meal was wonderful, with fresh fish and veggies in abundance.
What was a new discovery for you on this trip?
I had a wonderful discovery this trip in a part of Japan I had never visited before, Nagano.  The Nagano area is so beautiful, and just a quick (few) train rides up north through a beautiful verdant valley surrounded by mountains on all sides.  I stayed at a traditional Japanese inn called Senjukaku that my dear friend and world-renowned dancer Megumi Eda recommended to me.  Megumi is from the mountains of Nagano and the magic she spoke of did not disappoint.  I hiked to a fantastic park known for it's adorable snow monkeys that enjoy soaking in the natural mountain hot springs in the winter months.  I too enjoyed time in these onsen, hot springs that dot the whole of Japan.  It was a much-needed break in the most calming setting and I discovered new foods, people and places that I shall never forget.
What makes you want to return to Japan again?
Despite the fact that I've been to Japan many times, I always yearn to go back for so many reasons.  The combination of kind people, a (slightly!) slower pace of life than NYC, the aesthetic beauty and the sheer fun of Tokyo make me always want to return.  Plus the Japanese just get it!  They live life in a full way and appreciate the small things.  I always learn so much from spending time with them and hope to continue doing so for years to come.
Save
Save
Save
Save
Save
Save
Save
Save
Save
Save
Save
Save
Save
Save
Save
Save
Save