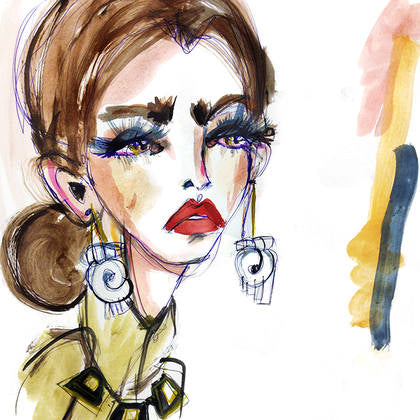 SPOTLIGHT ON: BLAIR BREITENSTEIN
We can't get enough of artist Blair Breitenstein. Discovering her work through her Instagram account @blairz, we instantly recognized her ability to breathe life into our jewelry. Blair has illustrated countless images of Lulu Frost adorned women and we thought it was time we showcase some of our favorites. 
*See our Q+A with Blair below.
What is your background?
I studied studio art, art history and advertising in college. After spending time abroad studying art in Florence, Italy and sketching my travels I continued to draw using portable materials such as watercolors, small sketchbooks, and pen. High fashion photography, fashion illustration, and expressionist painters largely influence me. Since graduating I have committed to drawing daily and I am constantly exploring new mediums and subjects.
Why the name "Blonde Lasagna"?
Someone once told me my hair looked like lasagna noodles, golden, wavy and a little messy. I LOVED that! What a unique description I thought! So, Blonde Lasagna became my blog name. Then I got attached, and now I identify with it. The name Blonde Lasagna is eccentric, attention grabbing and random. The same words describe my personality. I would definitely turn around if some yelled "Hey Blonde Lasagna!"
Do blondes really have more fun?
I love that saying! But I think it depends on the blonde.
How were you first introduced to Lulu Frost?
I saw Lulu Frost for the first time at J.Crew. Lisa Salzer's jewelry literally stopped me in my tracks. It was so special and different from everything else in the jewelry case.  I looked it up on the Internet and have been in love ever since. I draw Lulu Frost because the jewelry has amazing unexpected combinations of colors and textures. I believe when you're drawing a beautiful subject your drawing will be beautiful.
What are your favorite Lulu Frost pieces?
Every 100 Year necklace is my favorite.
Tell us about your process and what inspires you.
Watercolor is my medium of choice. I love how quickly I can finish a painting and how portable it is.
I make a point not to use an eraser in my drawings in order to capture the spontaneity of my ideas. I also draw quickly which adds ­­­­a quality of fearlessness and quirkiness to my work.  For some artists, capturing the proportions of their subject is most important - this is cool, it's just not my style. Art is fun and it's a creative release. I don't draw from life, I draw from daydreams and fantastic magazine editorials. I am not focused on portraying real life, so when something I'm painting turns out a little off I go with it! I am less worried about drawing the correct number of fingers on a hand than getting the perfect shade of blue for a dress I saw in my dreams. In my dreams it was the dress I found inspiring, not the hands of the model that wore it. I am inspired by big hair, fashion ads and other artists. I am really inspired by illustrator Garance Dore!
What are your daily blog reads?
I follow a long list of blogs and I wish I could list them all because they contribute heavily to my creative process… but a few that stand out include:
Man Repeller / Atlantic-Pacific / Cupcakes and Cashmere / Vanessa Jackman
What's your dream job?
I haven't figured out my dream job yet but I have a few dreams. I dream of seeing one of my illustrations in a fashion magazine. I also dream of sketching at a show during fashion week. Are those jobs?
If your "blondes" could talk what would they say?
"Take my picture!!"
*See more of Blair's work here. Follow her Tumblr (here) and Instagram (here).