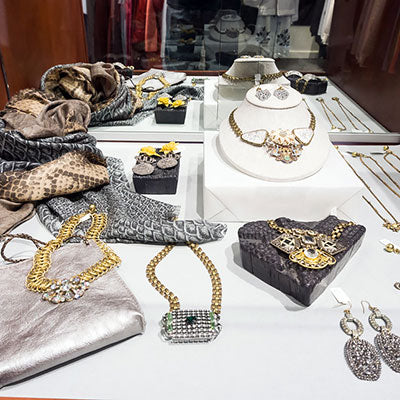 SPOTLIGHT ON: CASHMERERED
Caci Grinspan opened her boutique, CashmereRED, in 2006, inspired by a Scottish cashmere cardigan passed down by her grandmother. The ochre v-neck button-down sweater, still in her wardrobe after 25 years, is Caci's talisman and keeps her true to her task: purchasing timeless, high-quality pieces that customers will take home, cherish, and maybe pass along themselves. CashmereRED is located in Telluride, a tiny southwestern Colorado ski resort her family had started visiting in the early 90s. As a longtime carrier of Lulu Frost jewelry, Caci sat down with us for a Q+A.
Describe the shop in three words?
Cozy, worldly, colorful.
How did you first discover Lulu Frost jewelry? 
We found Lulu Frost right as it was launching. A friend of ours, Sandra Merrill, left Telluride for a career change and ended up with her best friend – Lisa Salzer!! She wrote me from New York: "I think you should check out this line my friend is launching. It could really be a great fit for CashmereRED." That was seven years ago!
Best reaction any customer has had to Lulu Frost jewelry?
Tears of joy. At a trunk show, Lisa was given a client's cameo (which was passed on to her as a little girl when her mother died). The client had not known what to do with the piece until she met Lisa, fell in love with her ideas, and trusted her enough to hand over the heirloom. Reunited with the cameo, she wears it happily and often.
What's another cool brand you carry that everyone should know about? 
The Cashmere Queens would be remiss not to mention the store's own label! CashmereRED clothing - for men and women - is knit in Scotland of 100% Scottish cashmere.
Fill in the blank: Jewelry has the power to _______.
Jewelry has the power to shine – even when your jeans are tight!
*Follow CashmereRED on Instagram (@cashmereredshop) and vist their website for more information.
Location:
221 East Colorado Avenue
Telluride, CO
81435 970.728.8088