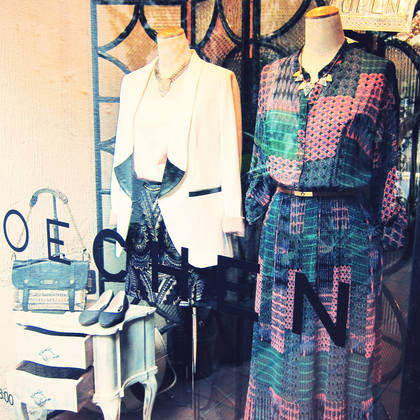 SPOTLIGHT ON: CHLOECHEN
Chloe Chen always had a passion for fashion. She was born in a small town in Taiwan called Taitung, where her accessibility to fashion was pretty limited. Chloe often made her own clothes or would re-design her mother's pieces to fit her. Eventually Chloe moved to Taipei, and then New York to study design. When she returned, she opened CHLOECHEN. That was over twelve years ago... we caught up with Chloe about her store, her love for Lulu Frost, and her style in general: 
Tell us about the store experience at CHLOECHEN?
We do our best to make our customers feel special. Much of this comes from our vintage furniture pieces we select for each store. Although we value brand consistency, I make sure each of our stores has a unique quality. 
Who shops at CHLOECHEN?
Our customer range is wide from younger to older clients. All of them are pretty fashion forward and have their own sense of style. Of course that includes all the local fashionistas and celebrities that have followed our brand for years.
How did you first find out about Lulu Frost?

I was in NYC and I asked a friend of mine what brand of necklace she was wearing. She said Lulu Frost... The next day I saw another friend and asked her the same question, only to get the same reply, again, Lulu Frost. Needless to say, I had to learn more about this brand. 
What is your definition of "Modvin" (modern + vintage)?
Modvin balances modern convenience with vintage romanticism. I use all the new technology for ease of life, but I also appreciate traditional experiences. For instance, I don't drink tea from a teabag but instead use a pot to boil water. There is something about the experience I enjoy. 
How does your style embody the term "Modvin"?

As a designer I match new products with vintage items in my wardrobe. I can be more playful and offer more variety this way. 
What other brands do you carry?
Venna, Linda Farrow, Tom Ford, and CHLOECHEN. 
What do people say when they try on Lulu Frost?
Oh my god!!!
What's your favorite part of your job?
There's something new happening everyday and I can create anything I want.