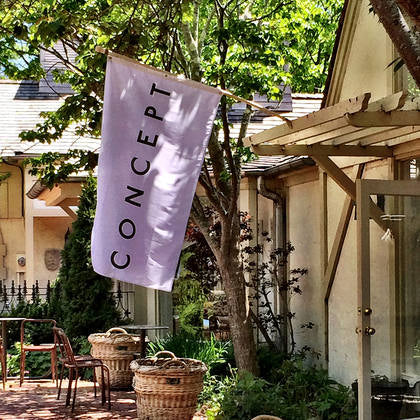 SPOTLIGHT ON: CONCEPT SOUTHAMPTON
An innovative collaboration of designers, CONCEPT Southampton store opened in May of this year and offers an intimate and well-curated shopping experience.  Storeowners James Lowther of The Lacquer Company and Jackie Astier of Astier NY want customers to make themselves at home within their charming abode.  With weekly updates to its product offering CONCEPT Southampton keeps its shelves stock full of one-off items, spanning a range of categories from housewares to vintage jewelry (including one-of-a-kind Lulu Frost).  See below for a Q+A with James Lowther, one of the masterminds behind the shop.
Tell us how CONCEPT Southampton came to be?
"CONCEPT came to me while I was on vacation in Bali.  I'd been in the NYC polar freeze and was dreaming about projects for the summer."
Describe the store in 3 words?
"Artisans, design, summer."
What's the atmosphere you are trying to create?
"We have created an environment where great designers come together, giving the vibe of a sophisticated but inviting home."
CONCEPT is more than just a retail store, its a collaboration of artisans.  How did you determine your brand and product offering?
"I wanted to bring the best in design together, both existing friends and those I have admired and aspired to work with.  We ensured that each offering was distinct in style and would compliment the overall environment."
What can customers find at CONCEPT that they can't find elsewhere?
"CONCEPT offers diversity in design (home, art, jewelry, fashion) and prestigious brands under one roof.  As we sell and make way for new pieces, inevitably the vibe of the store will change.  We look forward to this evolution throughout the summer."
What's the best part of summer living in the Hamptons?
"In my mind, the real Hamptons experience is quite simple and charming.  It can be the 'bucket and spade' beach experience, riding around on bikes and eating delicious local food.  One hears complaints about traffic and overcrowding in the Hamptons, but I find the beaches to be some of the best kept and un-crowded I've experienced.  I love the lifestyle/design adjective 'beachy' which sums up the Hamptons for me."
*Follow concept on Instagram (@conceptsouthampton) and vist their website for more information.
Location: 
42A Jobs Lane
New York, NY 11968
917 371 7236