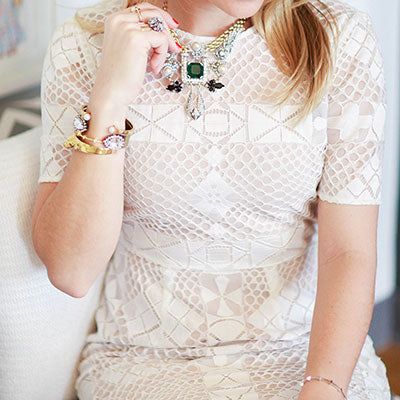 SPOTLIGHT ON: DRIA MURPHY
Meet Dria Murphy, the Style & Communications Director for Keep.com, a website and app that allows users to discover the latest trends in fashion, home décor and more. Every so often we spotlight influencers we admire and Dria is one such person who keeps her finger on the pulse of fashion. We caught up with Dria to learn more about her start in the industry, her favorite thing about living in Manhattan and her must-follows on Instagram.
Tell us about yourself.
I grew up in San Francisco and moved to New York City after I graduated from Santa Clara University. I started my career at a fashion PR agency and then moved to in house PR at Calvin Klein then Ralph Lauren. I feel so lucky to have worked for established and well known fashion brands when I was just starting my career. I was able work on major campaigns and help produce high-pressure fashion shows and events. Learning from the best is always an amazing way to start out because you get to learn all the fundamentals from the experts.
I really got into the digital side of fashion when I started working at Topshop. I worked on several digital initiatives every season at London Fashion Week. Everything from live-streaming runway shows to being the first fashion brand to use Google+ hangouts to engage with customers and fans, to customizing the catwalk for purchase. This experience inspired me to learn more about the digital world and how I could become a part of it.
Now, working at Keep is so exciting. We're at the forefront of the ever-changing e-commerce industry. It is exciting and challenging at the same time.
What's a day like in the life of Dria?
I am in and out of the office a lot, meeting with and entertaining influencers in the fashion, beauty, and home décor world. I develop fresh ideas and actively pitch them to the press, spreading the word and raising awareness about the utility of Keep! In addition to public relations responsibilities I curate Keep's 'style channels' on our homepage and in our app. Keep already has a gorgeous selection of products so I just help curate them in a visually appealing way. It is exciting to take on more of a styling responsibility at a fast growing e-commerce platform. I work on choosing which products go where to ensure our site is stylish, on trend, and visually appealing.
What do you love most about your role as the Style & Communications Director for Keep?
First, I appreciate the opportunity to work among such inspiring and brilliant people. I love working in such an innovative industry because its always changing and I am constantly learning. Second, I love the freedom to be creative. I can watch my ideas come to life and have the ability to work with truly talented people within tech and fashion.
What's your favorite part about living and working in Manhattan?
The energy! There is always something going on in Manhattan, regardless of the day and time. Restaurants and bars are always busy and I feel inspired on a daily basis.
How do you work jewelry into your everyday wardrobe? Are there certain pieces you wear everyday?
Jewelry is essential to my everyday wardrobe. I don't leave the house without at least a few pieces on. I love simple pieces that I can wear everyday.
When did you first learn about Lulu Frost?
I first learned about Lulu Frost in 2007 when Lulu made all the runway accessories for Alexander Wang's Fall show. I remember being very impatient having to wait until August to get my hands on some of the pieces.
What are your top 3 favorite Lulu Frost pieces?
That is a tough one so lets just say RIGHT now, these are my favorites:
Top 3 favorite people to follow in Instagram and why?  
How can people follow you?