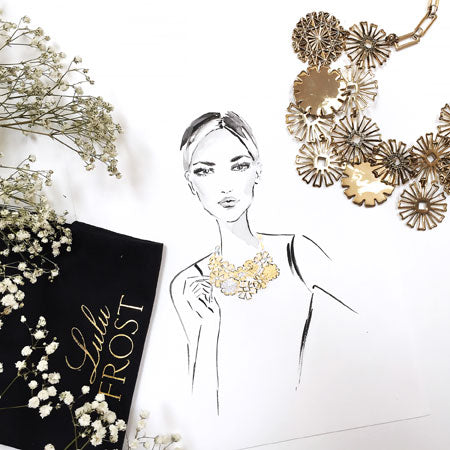 SPOTLIGHT ON: ELENA FAY
When we came across Illustrator Elena Fay on Instagram, we immediately fell in love and couldn't wait to learn more about her and her incredibly chic work. Check out how Elena uses her beautiful watercolor illustrations to bring some of our favorite Lulu Frost pieces to life.
Tell us about your background? 
I'm a self-taught artist, but I've always admired people who create beautiful artwork. One day I was cleaning my apartment and stumbled upon my niece's paints and it was the day when I fell in love with watercolors. In 2012, I started my blog
DC in Style
as a hobby to share my sketches and passion for art and fashion. Over the years this space evolved and became a creative outlet to share the things I love, my inspiration, and everything creative. 
How would you define your aesthetic?
My art is all about elegance.  
Tell us about your process and what inspires you.
It's hard to pinpoint where the inspiration finds me, because beautiful things are everywhere around us. When I was a little girl, I was fascinated by fairytales, colorful books and paper dolls that my older sister made for me. These days, I'm mostly inspired by the magical atmosphere of fashion shows, whimsical collections and embellished gowns. Watercolor and ink are my absolute favorite combination, but I love experimenting and adding acrylic paint and glitter while creating my artwork.
What is your favorite thing to draw?
Anything related to fashion.
Describe your art in three words...
Which artists do you most admire? 
Katie Rodgers, Nuno Da Costa, Megan Hess
When and how did you first learn about Lulu Frost?
It was a few years ago, when I stumbled upon an Instagram photo of a gorgeous statement necklace. That's when I fell in love with Lulu Frost.
What are your top three favorite Lulu Frost pieces?
Who are your top three favorite people to follow on Instagram?
How can people follow you?