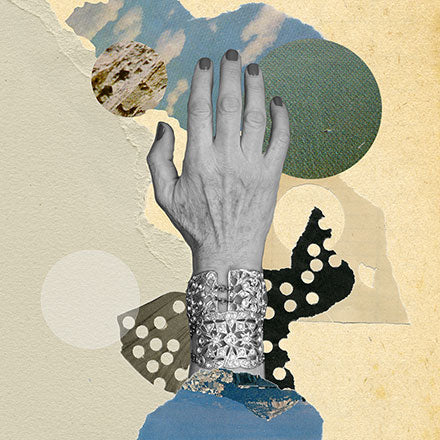 SPOTLIGHT ON: LIZZIE GILL
Meet Lizzie Gill, a mixed media artist living and working in Brooklyn. When we stumbled on her collage work we instantly recognized parallels between Lulu Frost and her personal aesthetic. A lover of vintage, Lizzie's work combines elements of digital and canvas to explore themes of past and present, much like designer Lisa Salzer's own tendency to modernize vintage jewelry. Noticing an especially strong tie to our newest collection, Tesserae, we asked Lizzie to interpret the mosaic jewelry in her own way, referencing the lovely Tziporah Salamon throughout her process.
Read our Q+A below to learn more about Lizzie and her inspiration for this project (PS… follow her on Instagram: @Lizzie.Gill.Art)
How did you develop this type of collage aesthetic?
It developed from my interest in collecting vintage ladies magazines and exploring the possibilities of an image by removing it from its context.
What is it about mixing past and present that you love?
I love putting a contemporary spin on the past; it's like having new information with old diagrams.
Tell us a bit about your process when it came to the Lulu Frost collages?
For Lulu Frost I wanted to work with torn edges, Greek temples and desert landscapes. I utilized this imagery to complement the Greek mosaic aesthetic in the jewelry, highlighting the imperfections that are reigned in by the clean lines of the metalwork and pavé.
What did you use as your inspiration for this project?
I used the jewelry and Tziporah's eye-catching outfits for inspiration. I used imagery from a world book encyclopedia from the 60's.
What materials did you use?
I used torn paper from vintage publications along with digital techniques.
What is your most cherished piece of jewelry and why?
I'm a jewelry lover; my favorite piece is my engagement ring. I love that it's a family heirloom.
If you could go back in time and have a cocktail with one famous person who would it be and why?
Both of my grandmothers, because we never met and I've been told we'd hit it off.
What are your top 3 favorite jewelry pieces on lulufrost.com currently?
Who are 3 other artists you follow on IG and what speaks to you about their work?
@J_Silberb
because her black and white photography of New York nightlife is very unique. /
@BrooklynCollageCollective
, a collective of collage artists I co-founded. Each member utilizes the cut and paste method in an inspiring way. /
@Morgan_Jesse_Lappin
because his collages are fantastical and humorous.