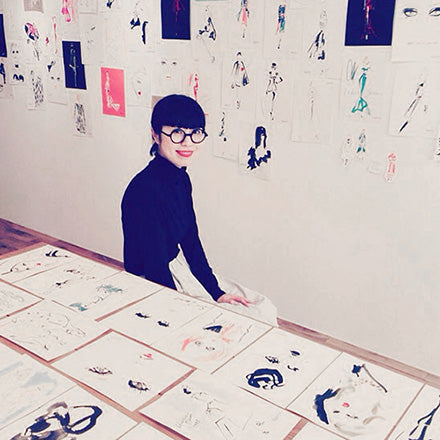 SPOTLIGHT ON: MIYUKI OHASHI
When we met Miyuki Ohashi during our run of trunk shows at Barneys Japan this past month, we instantly fell in love. Of course we've been huge fans of her fashion illustrations since we discovered her Tumblr account, but after meeting Miyuki in person we were even more impressed by her sweet presence, charming personality and incredible style. We couldn't wait to find out more about our fashion-illustrator-crush and share her work with you.
*See our Q+A with Miyuki below.
Tell us about your background?
I studied fashion illustration at an art school in Tokyo and began working as a fashion illustrator after I graduated. Since then, I've held nine solo exhibitions mainly in Tokyo. Beginning in 2008 I started using Tumblr and continue to upload at least one fashion illustration to my blog every day, which has been huge for me. Tumblr allows me to stay on top of fashion trends and connect with many other people.
How would you define your aesthetic?
My art is all about drawing the body beautifully, expressing form in as simple a line as possible.
Tell us about your process and what inspires you.
I usually free form draw without using any drafts but sometimes I draw a sketch to think about composition. My main medium is acryl gouache and ink. Depending on the situation, I use crayon, pencil, marker etc. I am endlessly inspired by art, fashion photography, fashion shows and fashion blogs. I also learn from the best of past and present fashion illustrators.
What is your favorite thing to draw? 
Mainly stylish woman, but anything related to fashion. I check fashion sites every day and draw what I like best! 
Describe your art in three words… 
Chic, minimal, fashionable. 
Which artists do you most admire? 
René Gruau, Christian Bérard, Edith Head. 
When and how did you first learn about Lulu Frost? 
Several years ago, I discovered Lulu Frost on the
Barney's New York
website. It was very beautiful and made a huge impression on me.
What are your top three favorite Lulu Frost pieces? 
Who are your top three favorite people to follow on Tumblr? 
How can people follow you?