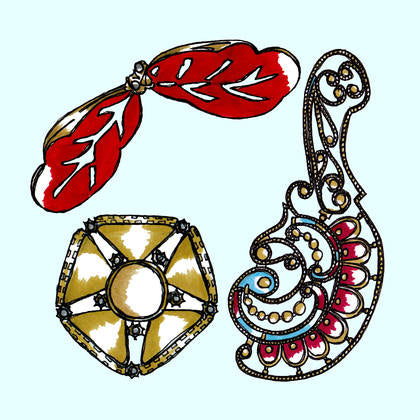 SPOTLIGHT ON: NICOLE MIAZGOWICZ
Social media is an incredible thing - especially when it uncovers serious talent. Nicole Miazgowicz draws what she wants... literally. Her blog, I Draw What I Want, features a series of illustrated fashion collages showcasing product she really wants. After discovering Nicole on Twitter, we wanted to get to know her better. Learn more about the talented artist below.
Give us a brief background. 
I grew up in Michigan and graduated from college in 2006 with a theater performance/art degree. A year later I moved to New York. Drawing was always a hobby for me but the more I kept it up, the more I wanted to do it full time. Currently I'm a freelance illustrator and do commissioned and original art as well. Illustrating is a great way to incorporate my theater background and love for storytelling - one day I'd love to move into book illustration.
Favorite place to get inspired in New York?
The view outside my window in Park Slope. I'm at the top of a brownstone facing other brownstones with amazing textures and colors. Not to mention the beautiful fire escapes, patios and backyards (none of which I have!). When I go for a walk, I always notice the tops of buildings - If you don't look up you can easily miss the amazing little details and gorgeous architecture.
If you could have one other talent what would it be?
Modern dance. Being an artist tends to be sedentary and internal, so the idea of letting out your creative energy in a really physical way is so intriguing and inspiring to me. I'm always in awe when I see my friends perform modern dance. 
We knew Nicole would take interest in our 100 Year collection given her affinity for art history and costume design. Each piece from the 100 Year collection is made of vintage parts dating back 100 years (from 1860 - 1960). Nicole visited our studio and chose one of our 100 Year necklaces to interpret. "I had a lot of favorites from the collection, but I love how many colors are in this necklace. The individual pieces remind me of the jewels and pins I've gathered from my grandma's house over the years. It feels like a piece I'd hand down through the generations," said Nicole.
Shop our Centurion 100 Year Necklace here. 
Top 3 things you "want" right now?
A Clare Vivier Foldover clutch /  Robin Piccone Penelope Crochet swimsuit / Ulla Johnson Harbor jacket
Theory on fashion and art?
Fashion is definitely art, especially when you're gathering inspiration from all sorts of places and infusing that into your designs. Maia Bergman is a new designer that comes to mind as she has a definite concept behind her pieces. She literally sews tiny beads onto fabric to create beautiful pieces that I would just as soon frame as wear. I really think it comes down to the work, talent, and love that is put into something - most things that fit into that category I think of as art.
We're enamored with the term "Modvin" (modern + vintage). How would you define this word based on your work?
Modvin involves a fairly streamlined and simple style infused with things I have a connection to from the past. Often those pieces have history or wear and tear. This includes jewelry passed down to me, the vintage mannequin that's in my living room and so on. When these things enter a modern and simple setting, they become timeless.
The components that make up this 100 Year necklace: 
1. Parts of an enamelled vintage brooch circa 1950
 2. Cut steel shoe buckle element circa 1860 
3. Brass, crystal and glass vintage brooch circa 1940's
4. Brass and crystal floral brooch circa 1950's
5. Vintage clip-on earring elements circa 1960
6. Yellow and Jonquil vintage earring element circa 1940 
7. French enamelled Buckle circa 1900