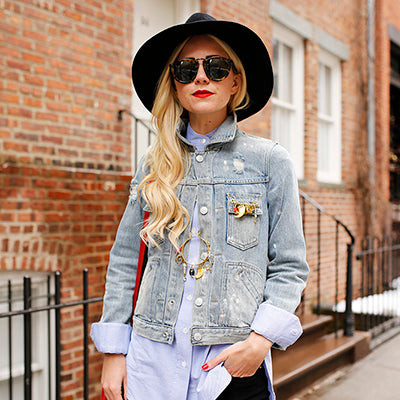 SPRING MUSE: BLAIR EADIE
This month we've partnered with the ever-fabulous Blair Eadie to bring you our Spring Influencer Series. Founder of famed blog, Atlantic-Pacific, Blair curated a collection of her favorite Lulu Frost pieces and teamed up with designer Lisa Salzer to design an exclusive necklace special for you. Blair has become a close friend of the brand over the last two years and we couldn't be more excited to feature her as this season's muse.
Lulu: What's the coolest vintage piece you've ever purchased or inherited and what's the significance?
Blair:
I have my great grandmother's diamond necklace. There is nothing more special than a piece that has been worn and loved by multiple women you look up to and admire in your family.
Lulu:
Three goals for 2015, personal or professional?
Blair:
1. EDIT/EDIT/EDIT: commit to less in order to do fewer things, better
2. BUILD FOR THE FUTURE: NYC can make you feel like you are living minute to minute. This year I want to slow down and take a moment to make sure I am making decisions that are right for the future, not just right for right now.
3. GET HEALTHY: I was an avid runner before I started blogging intensely in addition to working full time. Health is so important and this year I really need to refocus and make sure I am exercising and making healthy choices
Lulu:
Best piece of advice you ever received from your mom and/or dad?
Blair:
Don't do backwards.
Lulu: What is the significance behind the Atlantic-Pacific x Lulu Frost Charm Necklace?
Blair:
I have fallen in love with the Flora Fauna Traveler Series, but wanted to create a piece that was a little more minimalist. I chose to include my three favorite charms from the series to keep the spirt of the collection but also create more of an everyday piece.
Lulu:
How will you spend your first real day of spring (if it ever comes!)? Give us the play by play.
Blair:
Walking as much of the city as possible. In the winter I tend to stay in my little corner of the city so once the weather turns I will try to walk a couple miles and remember there is so much more to New York than the West Village! 
Lulu:
Most spontaneous travel adventure you've ever taken and with who?
Blair:
I am not that spontaneous but last year my fiancé and I took a last minute three day trip to Shanghai. It ended up being one of my favorite places I have ever been. We had the opportunity to tour the Swatch Art Peace Hotel, which was an amazingly inspiring experience.
Lulu: What's your most treasured piece of jewelry and why?
Blair:
My thumb ring. My dad started a new job when I was about 13 and for the first time ever he had to travel constantly. He would always bring something thoughtful home to my mom after each trip. After a trip to Europe he had bought her this simple but bold ring that I adored. My mom gave it to me when I graduated from college and it reminds me of the both of them and their commitment to each other.
Lulu:
Funniest encounter you've ever had during one of your blog photo shoots?
Blair:
I can't think of a single moment but I was surprised when I moved to NYC how much harder it was to shoot in the city - there are just so many people! Sometimes when we go outside to shoot we will walk to one of our regular locations and someone else is already shooting there and then our next best location there will also be someone shooting - it cracks me up.
Lulu:
When headed on a work trip or vaca, what are the essentials in your travel bag?
Blair:
Comfy pjs, headphones, great walking flats, boyfriend jeans, something striped, sunglasses (duh) and my camera.
Lulu: Next book on your reading list?
Blair: 
"The Girl on the Train" by Paula Hawkins
Lulu:
One quote to live by?
Blair:
"Opportunity is missed by most people because it is dressed in overalls and looks like work." - Thomas A Edison
Lulu:
Top 3 favorite Instagram accounts?
Lulu:
If you were an emoji, you'd be?
Blair:
Smiley with the sunglasses #duh
Lulu: What's your lucky number?
Lulu:
What's your biggest guilty pleasure?
Lulu:
Your power color is?
Lulu:
If you had one super power it would be?
Lulu: Fill in the blank: Jewelry has the power to _____.