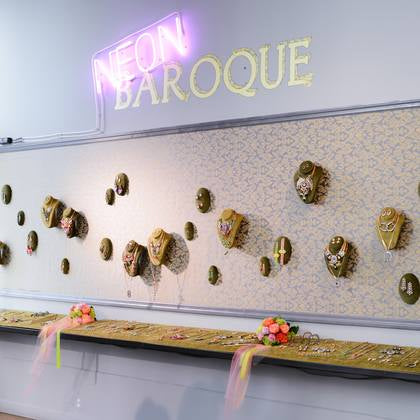 SS14 NEON BAROQUE PRESENTATION
We started this New York Fashion Week with a celebration of our SS14 collection, available in stores in February. The collection, titled Neon Baroque, is all about mixing old and new - with a Marie Antoinette meets Sofia Coppola vibe. We hosted the event in our New York City studio with 400+ guests in attendance over the course of a couple of hours. Models were adorned with stacks of bracelets and jewelry from both our Neon Baroque collections as well as our Lulu Frost Classics and 100 Year Collections. Bobbi Brown exquisitely executed make-up with hair by the talented Marie Robinson team. Models wore stunning tulle skirts with cropped tops handmade by Mary Kahle. DJ Chelsea Leyland rocked the music in a room decorated with breathtaking bouquets by Aisling Flowers.
As quoted by Elle Magazine, "The Lulu Frost showroom was transformed into a modern day Marie Antoinette wonderland last night—but with a punky twist. Imagine a room filled with birdcages, peacocks, blooming floral arrangements, models dressed in pastel colored tutus, flowing champagne, DJ Chelsea Leyland mixing the beats (while modeling a towering blonde coif), and of course, the jewels! Oh, the jewels!"
See photos from the event above.