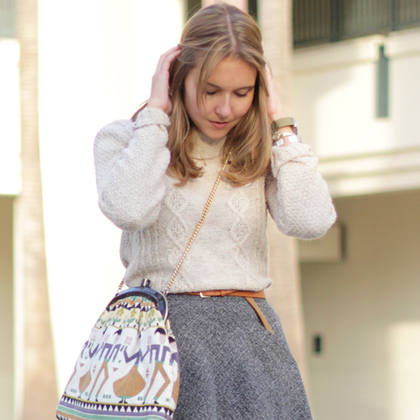 TEAM LULU: JESSICA STEELE
Join us for a toast to the newest member of team Lulu.  By day Jessica is our graphics manager and by night you can follow her blog, The Steele Maiden, for her latest musings on style, travel, design and more.  Jessica's stylish demeanor, approachable personality and keen eye for design add a fresh perspective.  Learn more about her in the Q+A below.
Where are you from?
West Grove, Pennsylvania
How did you end up at Lulu Frost?
Aside from being a long time fan and getting very lucky.. I started my career designing jewelry before switching to fashion graphics a few years later, so when I came across the position at Lulu I jumped at the chance to combine all of my interests and experience. 
3 words to describe your style?
Playful, feminine, and modern.
3 favorite jewelry pieces?
Revolution Necklace / Tuileries Pendant / CODE 14kt #5 Ring
What are you reading right now?
The Tiger's Wife by Tea Obreht
What are you watching right now?
I just finished the first two seasons of "Sherlock" on BBC, and I can't wait for "Orange is the New Black" to return this summer. 
Subway or taxi?
It depends on my shoe choice that day, but typically subway/walking.
Favorite New York City restaurant?
I love Cienfuegos in the East Village for tapas and drinks, and Pates Et Traditions in Brooklyn for brunch.
Style icon?
I'm not sure I have one in particular, but I think stylist Kate Foley tends to always get it right. 
Motto to live by?
Julia Childs said "Find something you're passionate about and stay tremendously interested in it." I think that goes for almost every aspect of life, whether it's your career, the city you live in, or the people you love.
Something you now know about the Lulu Frost team that you didn't know before working here?
Everyone has a nutri-bullet - looks like I'm next!