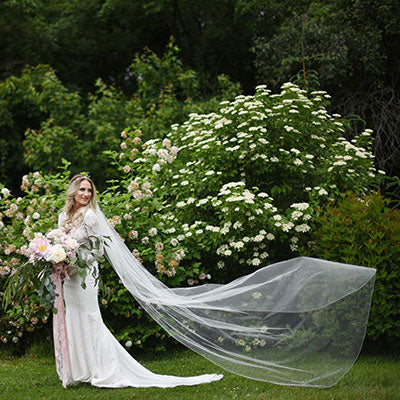 WEDDINGS: ANNA & JACOB
We like to celebrate life's special moments, whether weddings, birthdays, or other important events. In our "Celebrations" series we feature customers who choose Lulu Frost for meaningful occasions. This post spotlights Anna & her husband Jacob who met at Alma College. Scroll down to read more about her big day and her jewelry of choice.
How did you meet?
We met freshman year at Alma College and immediately became friends. The summer after I drove to northern Michigan to visit Jake and we finally shared our first kiss on the lighthouse pier overlooking Lake Michigan. We've been inseparable ever since.
Where did you tie the knot? 
We live in New York but are both Michigan natives and always knew we would tie the knot back home. We got married at Greencrest Manor, a lovely English estate in Battle Creek. The house is stunning and is surrounded by acres of gardens. We knew we wanted something different for our venue and I don't think a single guest had ever heard of it before.
Okay, tell us about the dress?
Oh, the dress! I was browsing Pinterest one day and found a photo of a bride looking at herself in the mirror. The dress was exactly what I wanted so I spent the day sleuthing and tracked it down. It was by Berta and only one boutique in New York carried her at the time, but they didn't have that specific dress. We picked a weekend for my mom and sister to visit and the boutique flew in a sample from Israel. It's so cliché, but as soon as I put it on I knew it was the one. 
Why Lulu Frost on your special day? 
While I knew exactly what I wanted for almost every aspect of our wedding, I had no idea what kind of jewelry to wear. I've loved Lulu Frost since Lisa did a capsule collection with J.Crew years ago, so I decided to reach out and see if she would be interested in designing some custom pieces for my big day. I sent pictures of my dress and the venue and basically said, "Design whatever you think would look beautiful!" We started with the earrings - I nearly cried when I saw them for the first time. Then we created a headpiece, which I can't even find words for. Lisa also made versions of the Oleander Earrings for my mom and sister. My mom is big on family heirlooms, so we are excited to hopefully pass these pieces onto our future daughters. 
What is your favorite memory from the wedding? 
Having everyone we love most all together in one place. It so rarely happens and I truly cherished the time we were able to spend with everyone. My bridesmaids were from Michigan, New York, New Jersey, California and Chicago, so to have all of my girlfriends together, getting our hair and makeup done and sipping mimosas, was a dream come true. I also loved our first look. Every time I think about our wedding day, I'll always remember the look on Jake's face when he turned around to see me for the first time. 
Any advice for future brides? 
Take every piece of advice with a grain of salt - mine included! People give you advice with the best intentions, but at the end of the day, it's all about you and your future husband. Do what makes the two of you happy. If we would have listened to everyone, we would have ended up with a Vegas elopement ("save money!"), a grand celebration at Disney World ("everyone would think it's so cool!") and no flowers ("they just die!"). I very quickly learned to just smile and nod.
Cheers to this happy couple!