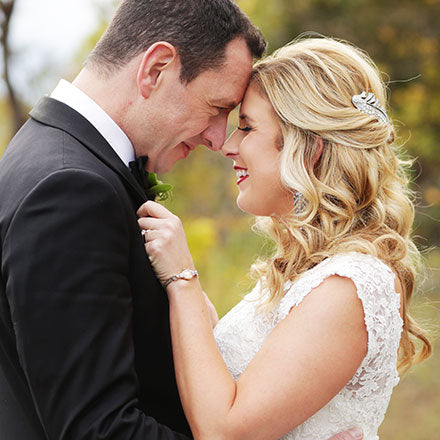 WEDDINGS: CATHERINE & HAROLD
We like to celebrate life's special moments, whether weddings, birthdays, or other important events. In our "Celebrations" series we feature customers who choose Lulu Frost for meaningful occasions. This post spotlights Catherine & her husband Harold whose friendship sparked a lifelong partnership. Scroll down to read more about her big day and her jewelry of choice.
How did you meet? 
Harold and I met through work of all places. Harold moved to Houston in the summer of 2013 to manage a store at the Houston Galleria. I was less than a mile away managing a store at Highland Village. Since he did not know anyone yet, I wanted to show him some Southern hospitality and introduce him to the city of Houston. We went to a few happy hours, local restaurants, and brewery tours. Harold and I had a lot in common and became instant friends. Naturally, we did not want to complicate anything within our work environment, so we continued to be friends until several months later when it moved into a relationship. 
Where did you get married? 
We first chose a historic house in East Dallas. The planning was done - invitations sent, vendors set up, and about two months before the wedding, we were notified that there was going to be a hearing that could possibly shut down the house from hosting weddings. Our catering company came to the rescue with a list of other venues that were available on our date. We went to visit Avalon Legacy Ranch in McKinney, Texas and knew it was meant to be. The rustic yet elegant ranch style was exactly the backdrop we were looking for.
Why Lulu Frost on your special day? 
I love the vintage styles Lisa designs. When I got engaged I started following Lulu Frost on Instagram as inspiration. When I bought my dress I knew I would either want Lulu Frost earrings or a bracelet. Lisa came to Dallas for a trunk show in September and I, of course, was excited to meet her. I browsed the amazing jewelry on display, but asked specifically for the Demeter Earrings and to my surprise Lisa pulled them from behind the display. I tried them on and knew they would be perfect!
What is your favorite memory from the wedding?
Cathy: 'I now pronounce you man and wife' and you know the rest. Also, turning to be announced to our family and friends as Mr. and Mrs. Harold Baker, while they applauded for joy was pretty amazing! The cake was great too! 
Harold: Hearing the music change to Cathy's song and watching my future wife walk down the aisle. Even though we had done a first look, it was just like seeing her for the first time.
Cheers to this happy couple!