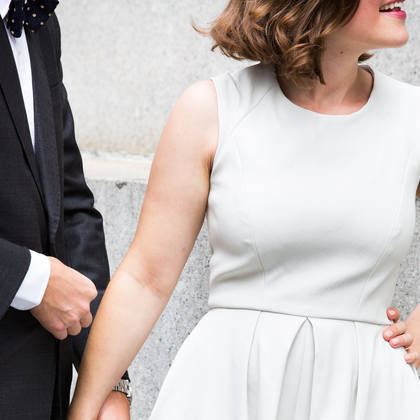 WEDDINGS: ERICA & THOMAS
e like to celebrate life's special moments, whether weddings, birthdays, or other important events. In our "Celebrations" series we feature customers who choose Lulu Frost for meaningful occasions. This post spotlights Erica & Thomas. Erica is a friend of Lulu Frost and co-founder of the website Of a Kind. Read more about her big day below.
How did you meet?
"We met as undergrads at the University of Chicago in 2000 - Thomas was interviewing for this concert-planning board that I was on. We've been together nine years! Which feels totally crazy. Especially when I consider that he was wearing Phish T-shirts, seed-bead necklaces, and sk8r boy jeans when I first encountered him."

Where did you tie the knot?
"We got married at City Hall in Manhattan. Well, it's technically the City Clerk's Office, but that sounds a lot more bureaucratic and a lot less Marilyn Monroe-Joe DiMaggio romantic."

Okay, tell us about the dress?
"It's white leather - white leather! Kaelen made it for me, and it fits like a dream. I liked the idea of wearing something that felt appropriately classic/throwback for the venue, and the cut is just that. But than the material is a total wildcard."
Why Lulu Frost on your special day?
"Lulu Frost just feels so freaking timeless. I know that when I see pics in 20 (or 50) years, I'll be just as into that bracelet. Also, one of the first grown-up purchases that I ever made was a pair of Lulu Frost earrings, so I've always had a soft spot for the line."

What was your favorite part of the wedding?
"I really loved that Thomas and I got to spend plenty of time just the two of us. After lunch with our families, we checked into the Bowery Hotel and did a whole dinner-and-a-movie date-night thing. We got a full 24 hours to hang before meeting everyone for soup dumplings the next night!"