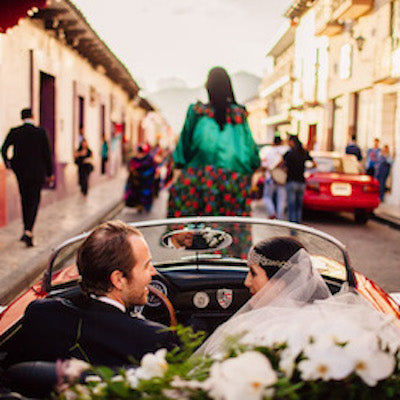 WEDDINGS: EUGENIA AND MAIX
We like to celebrate life's special moments, whether weddings, birthdays, or other important events. In our "Celebrations" series we feature customers who choose Lulu Frost for meaningful occasions. This post spotlights Eugenia & her husband Maix who dated for a year before Maix popped the big question in Tulum. The couple met at a wedding in Mexico, where they also decided to tie the knot (you can read more about it on Vogue here). Scroll down to indulge in this love story.
Eugenia, what was your favorite thing about planning the wedding?
I knew that we were planning a party where we could join all of our friends and family together in one room to celebrate. We knew we would never relive that moment, so we kept that in mind every time we got too crazy with the organization.
What was your least favorite thing about planning a wedding?
How much money you spend on it!
How did the custom hairpiece come about and why Lulu on your big day?
Lisa is one of the first 'fashion friends' I made when I began in the industry, and she then evolved into a real, true friend - surpassing the work relationship. I am a huge fan of her as a person, as a designer, and as a friend. I have been a fan of Lulu Frost since day one and own too many pieces to count! Lisa made my wedding ring (but that is another story) and a few months before the wedding my mother and I were in the showroom describing to Lisa the type of headpiece we were looking for to complement my dress. Coincidentally she was working on her first bridal collection, which had not yet launched. We spotted a headband I loved and Lisa took the spirit and idea of it and turned into a headpiece. I feel very honored!
What advice do you have for future brides-to-be? 
This was given to me: there will be things that go wrong in the wedding, there always are. But even with that, it will be the best day of your life. (And it was!)
What's one distinct memory from this event that you will always hold dear? 
The groom's speech. He opened up my heart, made me cry, and made me fall in love with him all over again.
Cheers to this happy couple!