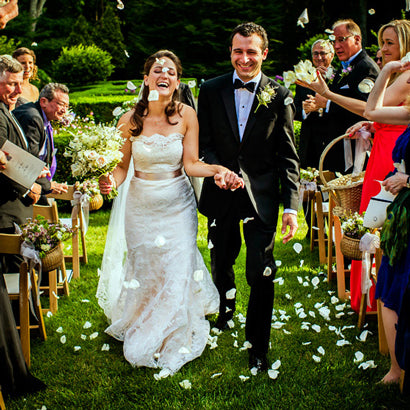 WEDDINGS: JULIA & JOHN
We like to celebrate life's special moments, whether weddings, birthdays, or other important events.  In our "Celebrations" series we feature customers who choose Lulu Frost for meaningful occasions. This post spotlights Julia & her husband John.  Julia, a longtime friend of designer Lisa Salzer, shared her wedding details with us, reminiscing on the time she first met John in Copenhagen.  Scroll down to read more about her big day and her jewelry of choice.
How did you meet? 
Even though my husband and I went to the same university in New Hampshire, we actually met in Copenhagen. In 2002 I was involved in a foreign study program and John came to visit our mutual friend who introduced us. We didn't really keep in touch but years later when John was about to move to NYC, he asked me (a native New Yorker) for city advice. When I responded with a virtual novel describing various neighborhoods, restaurants, and happenings, we started to become real friends. Twelve years after that first encounter in Denmark, we got married. The mutual friend who introduced us was both the maid of honor and best man at our wedding. 
Where did you tie the knot? 
We wanted to make the weekend feel like summer camp for grown-ups (very refined grown-ups) so we rented the whole campus of the Mayflower Grace in Washington, CT.   We had the run of the place including the elegant inn, luxurious spa, putting green, and pool.  This meant everyone could be in one place, hanging out all weekend.   There are beautiful manicured English country gardens to stroll through, and excellent food.   The venue is also about 10 minutes from my parents' house and I went to boarding school about 20 minutes away so we also have a long history with the area. 
Okay, so tell us about the dress? 
The dress was a blush Romona Keveza lace trumpet.  The wedding was black tie optional, but in a garden, so I wanted something that felt antique, fancy, and country-elegant yet not too stiff.  The combination of traditional lace with the playful and soft blush color really swept me off my feet and I loved how the lace at the neckline scalloped upwards creating a smooth silhouette.  The favorite part of my outfit though was decided on the fly: I was married barefoot! The heal of my Manolos got stuck in the grass during my processional in, so I just stepped out and kept going.  I always envisioned being a barefoot bride.  I don't think many people noticed, though.
Why Lulu Frost on your special day? 
I've been taken with Lisa's work for many years.  It started in college when Lisa made my bridesmaids and I (then five roommates) revamped gap t-shirts decorated with semi-precious stones (I still have mine).  She has tremendous talent and all five of us have stood back in awe as she's grown into a tastemaker.  I knew that if Lisa designed the jewelry, each lady would get a unique, timeless and elegant piece that would also speak to the history of our friendship as a group. 
Which jewelry pieces did you choose? 
I wore a vintage bracelet and hair comb.  The hair comb is a sprig of wheat which is symbolic because my husband's family runs a wheat farm in Michigan. 
What was your favorite part of the wedding?
Being surrounded by so much love.
All photography: Chrisman Studios
*Interested in designing your own custom wedding jewelry? Please e-mail amber@lulufrost.com and shop our Wedding Collection here.