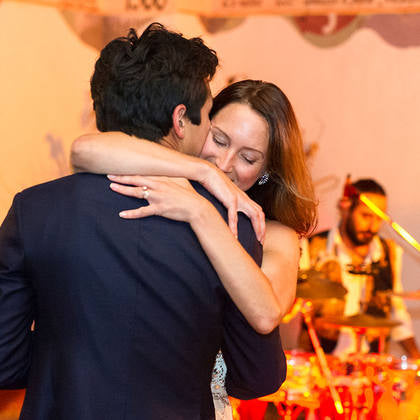 WEDDINGS: KELLY & NOHYUN
We like to celebrate life's special moments, whether weddings, birthdays, or other important events.  In our "Celebrations" series we feature customers who choose Lulu Frost for meaningful occasions.  This post spotlights Kelly & Nohyun.  Kelly kindly shared her wedding details with us, reminiscing on her love story with hubby Nohyun and their first introduction in NYC's West Village.  Scroll down to read more about her big day (wearing Lulu Frost Sunburst Studs).
How did you meet?
 "Nohyun and I met at a quaint West Village restaurant in NYC.  We both turned up with a book, looking for a quiet evening to ourselves.  A mutual friend behind the bar introduced us, and needless to say, the books remained closed throughout the evening until we closed down the restaurant.  We met up again the next evening and the rest is history."
Where did you tie the knot?
"It was a struggle to find a place that seemed right for us.  We were hoping to find something simple, charming and classic but didn't want the whole experience to seem like a business transaction.  Nohyun spoke to a close friend in Italy who knew of a property tucked away in the hills of Tuscany.  It was a beautiful 12th century property with a farm on sun-soaked rolling hills along with rustic houses, vibrant colors and a community of warm and loving people - exactly how you would envision picturesque Tuscany.  We didn't plan on a destination wedding, but as soon as we talked to the people there it felt special and personal - particularly because a friend recommended us.  We are so happy and gracious that they agreed to host our wedding and we constantly talk about how we wouldn't change a single thing."
Okay, tell us about the dress?
"With the sound advice of my mother, we chose the beautiful Jenny Packham Luna for my gown.  The dress fit the Tuscan landscape and the tone of our wedding perfectly."
Why Lulu Frost on your special day?
"I came across Lulu Frost while researching blogs for wedding inspiration.  The style was elegant and timeless, but still had a little edge.  The Sunburst Studs I chose were the burst of color I wanted but still maintained the simplicity that inspired so many parts of our wedding.  I also picked up a couple of bracelets for my bridesmaids that added a special Art Deco touch to their dresses."
What was your favorite thing about the wedding?
"Our wedding was truly magical, it's so difficult to pick a favorite part, but to name a couple: Sharing such a beautiful place and a beautiful time with a small group of our close family and friends is a memory we will cherish for the rest of our lives / Nearly every part of our wedding stemmed from someone we knew - from the musicians, to the wine, to the venue - this set the tone for a very warm and personal experience for everyone / Nohyun's vows were amazing, they told his story and his journey to becoming the man and husband he wants to be. There wasn't a dry eye in the group / Finally, the food and wine.  No elaboration needed."
What is your advice for future brides?
"Don't overthink or over-complicate your wedding.  The simplest moments are the ones you will remember."
*Interested in designing your own custom wedding jewelry? Please e-mail amber@lulufrost.com and shop our "Wedding Collection" here.