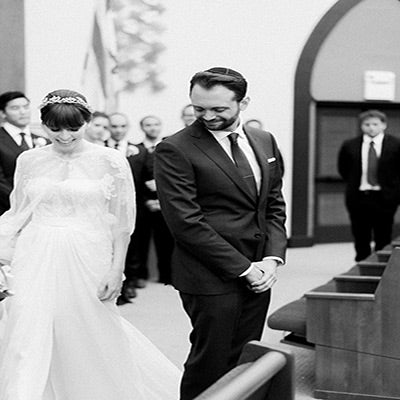 WEDDINGS: LAURA & JEFF
We like to celebrate life's special moments, whether weddings, birthdays, or other important events. In our "Celebrations" series we feature customers who choose Lulu Frost for meaningful occasions. This post spotlights Laura & her husband Jeff who met in San Diego. Scroll down to read more about her big day and her jewelry of choice.
Laura and Jeff, how did you meet?
We met in San Diego, where we lived in the same building. Our assigned parking spaces were only a few spots apart.
Where did you tie the knot?
We live in New York now, but San Diego is such an amazing city and is so special to us, we wanted to get married there. Our ceremony was in a synagogue and our reception was in our favorite restaurant in the Little Italy neighborhood, Juniper & Ivy.

Okay, tell us about the dress?
The dress was Monique Lhuillier. It had a cape. I doubt that decision requires further explanation.
Why Lulu Frost on your special day?
I wanted an unconventional wedding band, so it all started with a code ring. Each time I came into the store to finalize that piece, Lisa and I added something to my wedding look. With the cape my dress was very feminine, and without it was very Old Hollywood. Lulu Frost's modern vintage aesthetic worked especially well with both.
What is your favorite memory from the wedding?
Jeff and I wanted to arrive at the restaurant before our guests, so after the ceremony we rushed down the aisle and straight into a waiting car. It felt like
The Graduate
.
Any advice for future brides?
Hire a videographer!