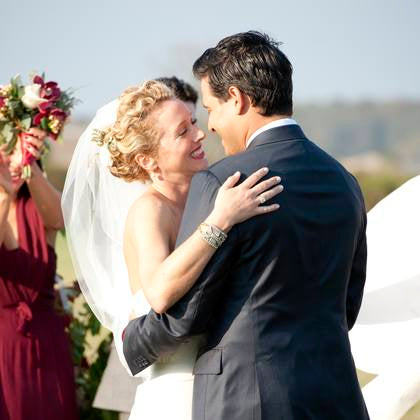 WEDDINGS: SERENA & MARCOS
Why Lulu Frost on your special day?
"Lisa is a friend and I have always been a huge fan of Lulu Frost.  I own several pieces that I have always worn for special occasions - because they are timeless, unusual and always a conversation starter and a show stopper."
What was your favorite part of the wedding?
"We got married at my childhood home, in my backyard, which was really magical for us - to have all our friends and family in such a special place with so much history.  We also got lucky with 75 degree weather in October, when the forecast was rain! My husband and I have a sort of tradition of taking jumping pictures wherever we go.  Instead of having a traditional photo booth, we set up mini trampolines with a backdrop to form a 'Jumping Booth'.  It was really fun to see all our guests, young and old, flying through the air after a few cocktails!"